見回り不要
LINE通知
アイホスエコは、ICT技術を活用することによって、ネットワークを通じ情報の伝達ができる「わな通報システム」です。
センサーを箱罠くくり罠に取り付けるだけで罠が作動した際の振動を検知し、お手元のスマホにLINEで通知します。センサーを購入したその日からお使いいただけます。
Regular price
Sale price
¥36,000
Unit price
per
Sale
Sold out
View full details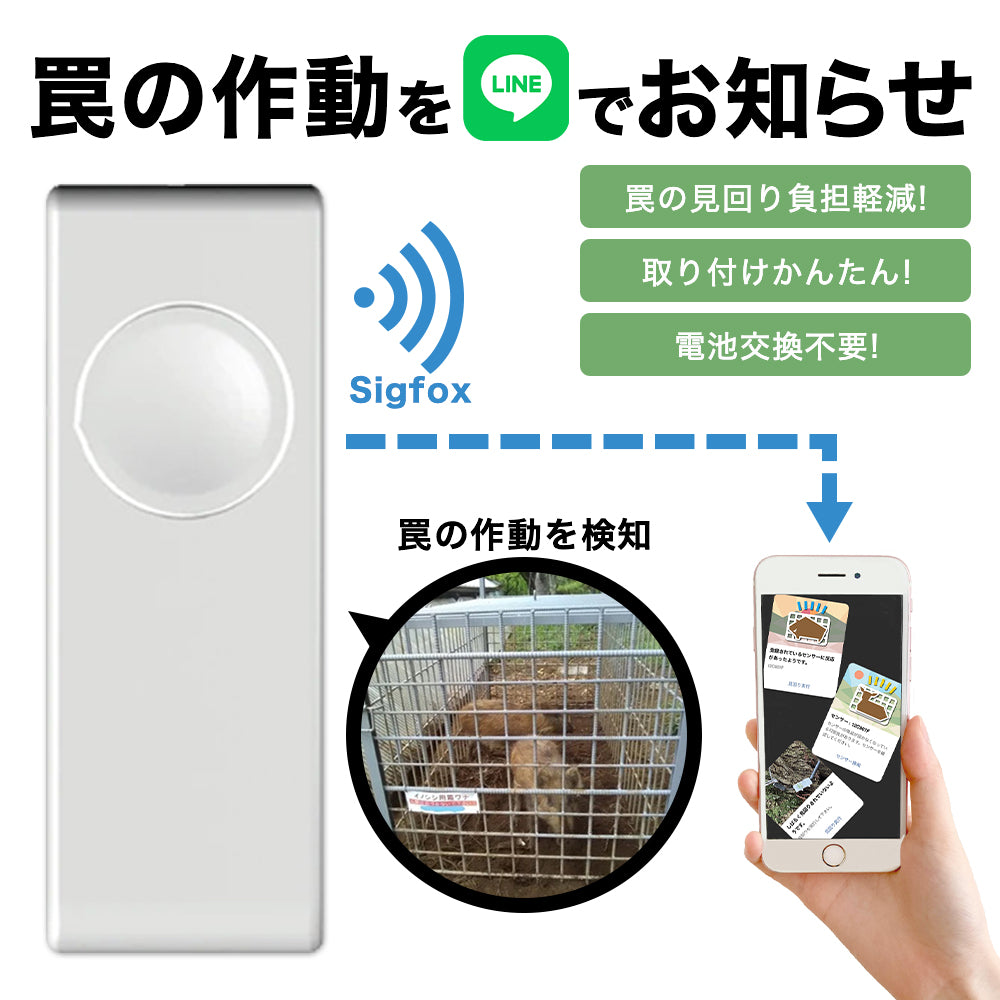 商品説明
Reduce the burden of patrol of traps! Trap reporting system
iHos Eco is a "trap reporting system" that can transmit information through a network by utilizing ICT technology.
Just by attaching the sensor to the box trap trap, it will detect the vibration when the trap is activated and notify you via "LINE" on your smartphone. There is no need to acquire a new application, and you can use the familiar "LINE" as it is. You can use it from the day you purchase the sensor.

Kyocera Communication Systems Co., Ltd. uses the network of Sigfox, which provides services as a telecommunications carrier. There is no monthly communication fee, so you can use it only for the initial cost . As long as your smartphone is connected to the Internet, you can receive notifications wherever you are. It is recommended for those who live in an area far away from the place where the trap is set.
For Sigfox service area, please check here. In addition, in order to check the network status before purchasing, we offer a two-week free rental of the sensor, so please feel free to contact us.

* "Ihos Eco" is a registered trademark of Sotohi Co., Ltd.
* "LINE" is a trademark or registered trademark of LINE Corporation.
Ihos Eco
Watch traps at home and at work
In the case of wireless (non-Internet) sensors, the distance from the sensor to the receiver is about 10km at most. In the case of sensors that use internet lines, you can receive notifications wherever your smartphone is connected to the internet when the trap is activated. Even those who are usually active in the city can monitor traps while doing housework and working.
Outstanding cost performance including communication costs!
Payment is only the initial cost including the main unit price and communication costs. You can use the line for up to 3 years after the product is shipped. In addition, there is no need to replace the battery because it is used up each time.
* Depending on the installation environment, method of use, and individual differences in sensors , it may become unusable even if it is less than 3 years old .
Notification on LINE
You can use the familiar LINE, so you don't need to learn new application operations. If you register the official LINE of iHos Eco as a friend and complete the connection with the main unit, you can use it from the day you receive it. Notifications will be sent to LINE at 6:00 am and 10:00 pm when the sensor responds. Since the group function is also supported, multiple people can grasp the sensor.
Recommended for people like this
I want to know how the trap works
When the sensor reacts, you will receive a notification on LINE at 6:00 or 22:00 (sensor owners only). In addition, you can also register sensor descriptions, location information, and photos, so you can customize and manage them in your own way.
don't have time to look around
No need to look around for traps. In addition, you can know which sensor has been activated, so you can prepare in advance and enter the site. Efficiency and safety of trap hunting can be ensured.
Easy to put on
In the case of a "box trap", secure it to the door with a binding band or the like. In the case of "Kukuri Trap", it is attached to the wire and camouflaged with plants. The dustproof and waterproof performance is the highest level of IP68, but if you are concerned about dirt, put it in a sealed bag such as a freezer bag to prevent dirt.
Free use of know-how
There are a wide variety of ways to set depending on people with unique techniques, trap types, locations, seasons, and objects. Ihos Eco does not have a fixed manual, so users can freely install it by making use of the experience and know-how they have cultivated. Please try to devise and install it so that the sensor will shake when the target is caught in a trap.
Product specifications
| | |
| --- | --- |
| 使用期間 | ご利用開始日より最大3年 |
| 通信方法 | Sigfox通信 |
| 外観寸法 | 29.5(W)×81(H)×12(D)mm(突起部含まず) |
| バッテリー容量 | 1500mAh *充電・電池交換不可の使い切り製品 |
| 重 量 | 30g |
| 作動温度 | −40°Cから60°C |
| 防水性能 | IP68 |