出荷日目安:

Ships within 5 business days
海外直輸入
22,000円以上送料無料
ミリタリーブランドの多目的折りたたみスコップ。穴を掘る以外にコンパスや、栓抜き、ノコギリの機能が搭載しているので、キャンプなどのアウトドアにも最適。コンパクトに折りたたむことができるので楽に持ち運びができるスコップをお探しの方にオススメです。
※直輸入品につき、発送までにお時間をいただく場合がございます。
Regular price
Sale price
¥1,364
Unit price
per
Sale
Sold out
View full details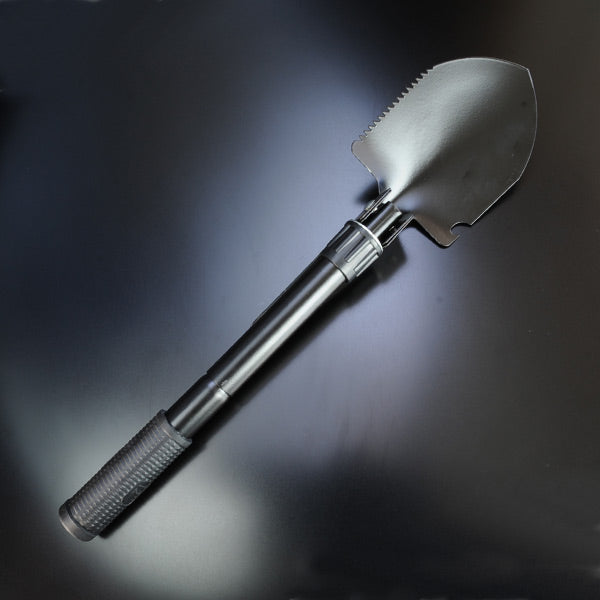 商品説明
A shovel (shovel) is one of the necessities for box traps and tie traps. It is an indispensable item not only for digging holes for setting traps, but also for spreading bait for box traps and leveling the ground when setting box traps. It is also useful for burying residues (internal organs after dismantling in the mountains).

It is recommended for those who are looking for a scoop that is easy to carry because it can be folded very compactly.
*This product is not sharpened.

We also have SCRADE folding shovels with adjustable handles and CONDOR shovels that can be used as hoes.
Multifunctional small scoop
Small and convenient to carry
The total length of the shovel is about 40 cm, but when folded it is about 17 cm, which is palm-sized. It weighs about 350g and is lightweight, so it is convenient to carry.
Active in the outdoors
It comes with a compass, so it is indispensable for walking on mountain trails. Equipped with a saw and a bottle opener, it is ideal for outdoor use.
Can be used as a pickaxe
It can also be used as a pickaxe to crush hard ground. It can be stored in the included nylon sheath and attached to a belt.
Product specifications
| | |
| --- | --- |
| 組み立て時全長 | 約41.4cm |
| 折りたたみ時全長 | 約16.8cm |
| シャベルサイズ(縦×横) | 約12.8×10cm |
| 付属品つるはしサイズ(縦×横) | 約10.5×2.2cm |
| 重量 | 約350g |
| 機能 | 折りたたみ式シャベル、つるはし、ノコギリ、栓抜き、コンパス |
| 付属品 | ナイロンシース |