法人様・自治体様限定
かんたん設置
kagattaは、ICT技術を活用することによって、ネットワークを通じ情報の伝達ができる「わな監視装置」です。
センサーを箱罠くくり罠に取り付けるだけで罠が作動した際の振動を検知し、リアルタイムでメールにて通知します。docomo携帯電波のエリア内であればどこでも設置可能です。
個人様向けの通知システム『アイホスエコ』もご用意しております。
Regular price
Sale price
¥30,000
Unit price
per
Sale
Sold out
View full details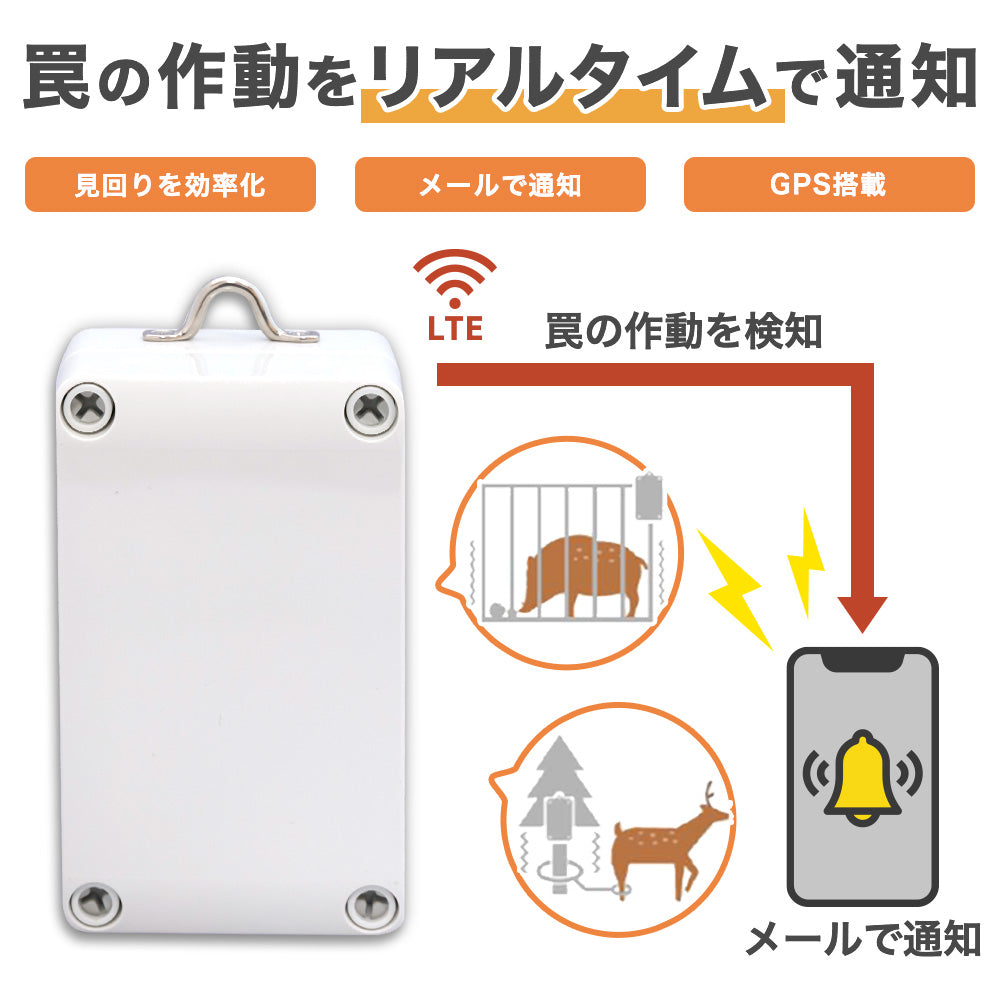 商品説明
Real-time notification of prey "caught!"
kagatta is a "trap monitoring device" that can transmit information through a network by utilizing ICT technology. Just by attaching the sensor to the box trap trap, it will detect the vibration when the trap is activated and notify you by "email" to your smartphone.

I use docomo's mobile phone line. Since it is equipped with a GPS function, it will inform you of the position information of the activated trap in real time. You can install kagatta anywhere within the docomo line area, and you can receive notifications wherever your smartphone is connected to the Internet. It is recommended for those who live in an area far away from the place where the trap is set.
Characteristics of kagatta
with GPS function
A GPS terminal is built into the main unit, and position information is transmitted when the operation of the trap is detected without any setting. You can easily identify the location of which traps have been activated. Since the mail arrives in real time, you can plan the route of patrol, so you can patrol traps efficiently.
Monitor traps anywhere
In the case of wireless (non-Internet) sensors, the distance from the sensor to the receiver is about 10km. In the case of a sensor that uses an internet line, you will be notified wherever your smartphone is connected to the internet when the trap is activated. Even those who are usually active in the city can monitor traps while doing housework or work.
Operates on batteries
It can be used immediately after a simple initial setting. Just by attaching it to your usual trap, it will detect the operation of the trap by vibration and notify you by e-mail. The battery operates with 6 AA batteries for about 3 months. Battery replacement work is also easy.
*The operation period varies depending on the usage conditions.
usage fee
Note) All prices shown include tax.
*1: Multiple "Kagatta (GPS trap monitoring device)" units can be registered under the same name in one group. 3,300 yen/group applies for 2 or more groups.
*2: The monthly usage fee for the "IoT Plan" is 440 yen (upper limit is 1,320 yen).
*3: Approximately 30MB of free communication is included in the basic monthly charge for the IoT Plan. (For reference, one e-mail notification will be approximately 11.5KB.) If you exceed approximately 30MB of free notification, the communication charge will be 0.03 yen/KB, up to a maximum of 1,200 yen (1,600 yen if there is no 2-year subscription). It takes
●Customers are responsible for installing the main unit and replacing batteries.
● "Kagatta" is a product that has been put into practical use using the patents of Secom Co., Ltd. and Farmage Co., Ltd.
● "Kagatta (excluding battery-less simple GPS type)" is a product of Co-Works Co., Ltd.
Recommended for people like this
I want to know how the trap works
When the sensor reacts, you will receive an email in real time. You can easily check the location information of activated traps.
don't have time to look around
No need to look around for traps. In addition, you can know which sensor has been activated, so you can prepare in advance and enter the site. Efficiency and safety of trap hunting can be ensured.
Easy to install
In the case of a "box trap", secure it to the door with a binding band or the like. In the case of "Kukuri Trap", it is attached to the wire and camouflaged with plants. Since it is waterproof and dustproof, it can be installed anywhere.
Free use of know-how
There are a wide variety of ways to set depending on people with unique techniques, trap types, locations, seasons, and objects. There is no fixed manual for kagatta, so users can freely install it by making use of the experience and know-how they have cultivated. Please try to devise and install it so that the sensor will shake when the target is caught in a trap.
Product specifications
通信方法
docomo携帯電波(LTE)
外観寸法
75(W)×125(H)×50(D)mm(突起部含まず)
バッテリー
単三乾電池×6本で約3ヶ月
※ご使用状況により稼働時間は異なります
重 量
400g(単三乾電池6本含む)
作動温度
−40°Cから75°C(乾電池除く)
※乾電池の利用温度の範囲で使用してください
耐衝撃性能
荷重:1.6t、落下:1m