出荷日目安:

Ships within 5 business days
Regular price
Sale price
¥45,273
Unit price
per
Sale
Sold out
View full details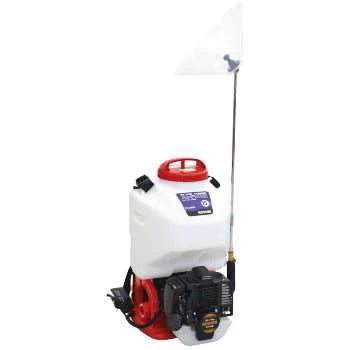 商品説明
Uses a high-pressure piston pump with a maximum pressure of 3.0 MPa
●Perfect for a wide range of disinfection work.
● Of course, you can also use it for weeding.
●Vertical 2-headed spout for disinfection, foam weeding spout with cover included
●Lightness of the industry lightest class!
●By adopting a belt that is easy to carry, even women can use it easily.

Product specifications
| | |
| --- | --- |
| タンク容量 | 15L |
| <ポンプ> | |
| 型式 | 一連差動ピストン(シングルピストン式) |
| 最高圧力 | 締め切り時3.0mpa(30kgf/cm2) |
| 最大吸水量 | 5.2L/分 |
| 噴霧量 | 縦型二頭口 高圧時3.5L/分、カバー付 泡状除草 除草時0.63L/分 |
| 噴霧目安 | 縦型二頭口噴口 幅約1.3m、カバー付泡状除草 幅約0.35m |
| <エンジン> | |
| エンジン名称 | kc22 |
| 型式 | 空冷2サイクルガソリンエンジン |
| 始動方式 | リコイルスターター方式(スタート名人) |
| 排気量 | 22.6cc |
| 最大出力/回転数 | 0.5kw(0.67ps)/6500rpm |
| 燃料 | 2サイクル混合ガソリン(50対1)fc級以上 |
| オイル容量 | 約0.5L |
| 点火プラグ | チャンピオン rcj6y |
| 燃料消費目安 | 約50分 |
| 本体重量 | 7.1kg |
| 付属品 | カバー付泡状除草噴口:1ヶ、縦型二頭口噴口:1ヶ、吐出ホース(1.5m):1ヶ、ノズルパイプ(60cm):1ヶ、握りグリップ:1ヶ、ボールコック:1ヶ |