出荷日目安:

Ships within 5 business days
Regular price
Sale price
¥4,900
Unit price
per
Sale
Sold out
View full details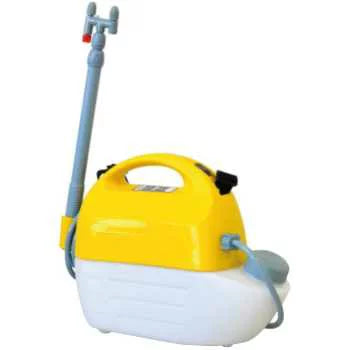 商品説明
●Gardening insecticide, essential equipment for sterilization!
●Tall tree OK with extension pipe!
●Adjustable nozzle length!
●Cleaning is easy with a washing switch! The chemical solution is discharged by the cleaning function inside the pump.
● You can change the atomization state!
*Some drugs cannot be used, so please check the "Major Drug Compatibility List".
Product specifications
| | |
| --- | --- |
| タンク容量 | 3リットル |
| ノズル形式 | 3段2頭口(1頭口切替) |
| ノズル長さ | 37〜96cm |
| ホース長さ | 1.7m |
| ポンプ | ギヤポンプ |
| ポンプ最高圧力 | 締め切り時:0.3MPa(3kgf/cm2) |
| ポンプ噴口・噴霧量 | 1頭口[噴霧]0.45リットル/min[直射]0.57リットル/min 2頭口[噴霧]0.68リットル/min[直射]0.74リットル/min |
| ポンプ噴霧圧力 | 1頭口 0.27MPa 2頭口[噴霧]0.18MPa[直射]0.15MPa |
| ポンプ噴霧目安 | 1頭口[噴霧]約0.6m[直射](斜め45度)約4m 2頭口[噴霧]約0.6m[直射](斜め45度)約2.5m |
| モーター | 直流7.2Vモーター |
| 乾電池 | 単一形乾電池 6本(別売) |
| 作業時間目安 | 1頭口 3時間  2頭口 約4.5時間 ※環境温度や乾電池の温度が高い時は電池容量が少なくなり、作業時間が短くなります。又、マンガン電池の場合は、使用時間が約半分になります。 |
| 本体重量 | 1.3kg(電池含まず) |
| 付属品 | スポイト:1ヶ、ショルダーベルト:1ヶ、2頭口噴口(1頭口切替):1ヶ |