出荷日目安:

Ships within 5 business days
Regular price
Sale price
¥20,727
Unit price
per
Sale
Sold out
View full details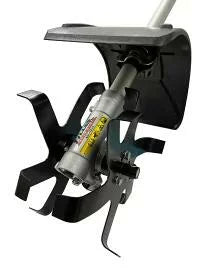 商品説明
1. Optimal soil preparation for crops
Through pinpoint and speedy cultivation, it is possible to create the optimum soil for crops.

2. Scraping short weeds and underground roots
You can cut the roots of short weeds and weeds left in the ground. It prevents the remaining roots in the soil from sucking up the nutrients the plant needs to grow.

3. Fertilizer and lime can also be stirred
A nail shape that can stir evenly and evenly. Achieves optimum workability for stirring with low rotation and high torque!

4. Simple ridges can also be erected
Simple ridges can be created by plowing while retreating.

Five. Low RPM & High Torque
Due to the use of a uniquely designed high reduction gear, it is powerful at low rotation and high torque, making it ideal for inter-tillage, stirring and weeding.

6. Easy blade replacement
It can be easily attached and detached by simply removing the snap pin (R pin). You don't have to worry about maintenance such as removing tangled grass or changing nails.

Can be attached to your lawn mower
The included mounting kit allows installation on most engine trimmers. *It cannot be installed on some special brush cutters.


Product specifications
| | |
| --- | --- |
| 全長×全幅×全高(mm) | 220×150×220 |
| 本体質量(kg) | 1.8 |
| 耕耘幅(mm) | 150 |
| 耕耘深さ(mm) | 70(ギヤケース下部まで) |
| 推奨排気量エンジン | 排気量20cc以上 |