出荷日目安:

Ships within 5 business days
Regular price
Sale price
¥15,273
Unit price
per
Sale
Sold out
View full details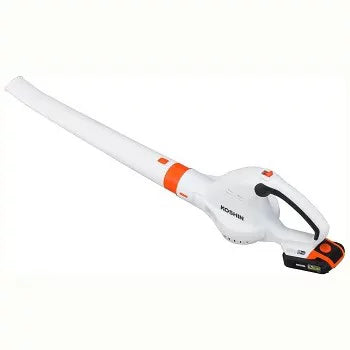 商品説明
Product information
●If you have one, you can use it in various ways
For blowing off fallen leaves. For processing after mowing. For cleaning on time. For cleaning warehouses and behind shelves. For cleaning construction sites. For blowing off water after car wash.
-Grip shape that is easy for women to grip
The grip part is narrow so that women can easily grasp it.
Powerful cutting
Approximately 160 trees with a diameter of 38 mm can be cut when fully charged.
●Two-stage air volume switching
Strong...For deep places such as ditches! For blowing away accumulated garbage!
Weak…For cleaning fallen leaves on the road! *1 = Weak, 2 = Strong
Product specifications
| | |
| --- | --- |
| モーター | ブラシモーター |
| バッテリー種類 | リチウムイオン |
| 電圧 | DC18V |
| バッテリー容量 | 2.0Ah |
| 充電時間 | 約60分(※気温やバッテリーの充電残量などにより異なります。) |
| 運転時間(満充電・無負荷) | 10分(高速)/20分(低速) |
| 最大風速 | 50m/s(高速)/30m/s(低速) |
| 最大風量 | 2.6m3/min(高速)/1.6m3/min(低速) |
| 本体サイズ | 923×152×195mm |
| 本体重量 | 1.5kg(※バッテリーなど付属品含む。) |
| 付属品 | ノズル |
| バッテリー | 充電器:急速充電器・バッテリー |