出荷日目安:

Ships within 7 business days
Regular price
Sale price
¥43,800
Unit price
per
Sale
Sold out
View full details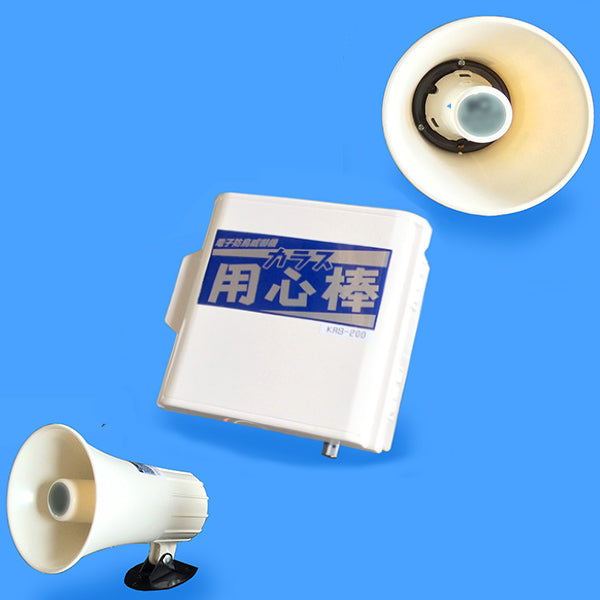 商品説明
It is a repellent machine dedicated to crow control. 16 kinds of sounds that crows dislike are played randomly with a sense of realism.
*This product has a new model. Crow Bodyguard SS KRS-SS1>>
A voice machine that is highly effective in repelling crows
Crows make alarming sounds.
〇 A total of 16 types of realism, such as crow screams (the sounds that crows make when they are attacked by enemies such as hawks), warning calls, explosions, hawk voices, human threats, and rocket fireworks sounds. A certain strong sound warns and avoids crows.
〇 Each sound is 15 seconds, and 4 types of sounds are played randomly in one playback (about 60 seconds). For that reason, it is difficult for crows to learn, and we have received a reputation that it is effective for crows with realistic sounds.
〇The two loud speakers are independent and produce 2-channel stereo sound. It can also be installed in a remote location from the main unit. Regularly change the position and orientation of the speakers to prevent "crow habituation".
★Installation
〇 Depending on the installation location, please separately prepare metal fittings for fixing.
〇The power supply is not included. Please purchase a 12V battery/battery box for automobiles at a home center. Simply connect with an alligator clip to complete the connection.
*With a 12V battery 40B19 for mini vehicles, it can operate for about 16 days.
〇 When the battery runs out, the LED flashes to notify you.
〇The volume can be adjusted with the volume. Since it is a device that evades by sound, if there is a private house in the neighborhood, it will be subject to noise and complaints, so please be considerate. There is also a sound volume adjustment, but if the sound is too soft, the effect will be weak.