出荷日目安:

Ships within 3-4 business days
Regular price
¥580
Sale price
¥580
Unit price
per
Sale
Sold out
View full details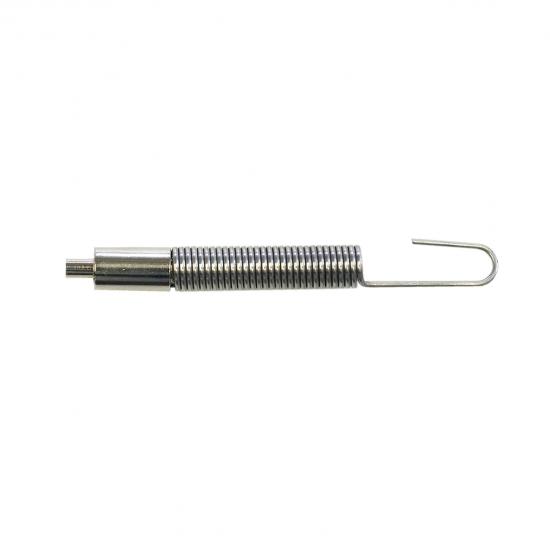 商品説明
Troublesome caulking work is unnecessary. A spring for adjusting the tension of the bird repellent wire. Since the wire and spring can be connected with one touch, the installation work time is reduced by about 60% compared to conventional products.
Difference from conventional products
In the past, sleeves and crimping tools were essential to make the tip of the wire into a round ring, but with the one-touch spring, these are completely unnecessary. Assembly of the spring and wire is completed simply by inserting the wire into the one-touch spring. In addition, it was impossible to adjust the wire tension after caulking work with conventional sleeves, but with the one-touch spring, tension can be adjusted at any time after construction.
Click here for conventional products>>
One-touch spring installation method
① Just cut the wire with a little margin and you are ready to go.
(2) Pass the wire through the one-touch spring.
③ Hook it on the pole. Tension adjustment is tightened by pulling the wire, and loosened by returning the wire while pressing the protrusion.
④ Finally, cut the excess wire and complete.
*Tension can be adjusted at any time after installation.
Installation method
How to make anti-bird wire
●Stand up pillars at 2m intervals and stretch the wires.
●Use a spring every 4m. For example, if you use three posts at a height of 4m, you can simply pass the wire through the hole in the center post. However, when stretching the wire in an L-shape or U-shape, be sure to use springs at the corners.
●Also, please be sure to use the struts for the terminal struts.
●The spring can be either a spring or a one- touch spring . When using the spring, prepare the same number of sleeves ( aluminum sleeves or stainless sleeves ).
★ Installation example for 10m
Approximate required quantity of each component
2m
10m
20m
50m
100m
In the case of 1-tier
strut
Two
6
11
26
51
wire
2.5m
11m
22m
55m
110m
Spring
2 pieces
6
10 pieces
26 pieces
50 pieces
In the case of two-tiered
strut
Two
6
11
26
51
wire
5m
22m
44m
110m
220m
Spring
Four
12 pieces
20 pieces
52 pieces
100 pieces
How to put up anti-bird wire
Select each component according to the installation location.
Product specifications
| | |
| --- | --- |
| サイズ | スプリング線径 Φ0.8mm 全長 57mm |
| 素材 | スプリング部…ステンレス(SUS304)、差込部…真鍮(めっき) |