電気柵用
高耐候性
FRP(高耐候性プラスチック)製の電柵支柱です。錆に強く耐久性があり長持ちするのが特徴です。
Regular price
Sale price
¥25,273
Unit price
per
Sale
Sold out
View full details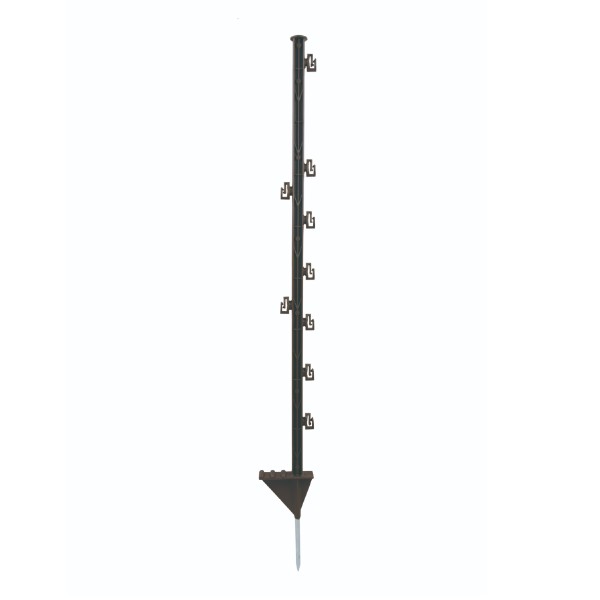 商品説明
The insulator and post are integrated, making it possible to save the trouble of installing the insulator, so it is an easy-to-install electric fence post . A net mounting hook is also included, making it easy to install a net in addition to the electric fence.
Another major feature is that the struts are made of a high-strength FRP core material molded with insulating PP resin, and are extremely durable, flexible, and rust-proof . When installing and maintaining an electric fence, we often cut the grass, but if it is a weak support, it is often cut by mistake. Since this product is highly durable, such risks can be reduced.
Product features
Easy installation without hammer
Since it can be embedded by stepping during installation, it is much easier to install than the type that is embedded with a hammer.
Can be used with net
It is possible to install both the electric fence and the net by attaching hooks to the top and bottom of the inside of the post for installing the net.
High durability and elasticity
It does not break or bend even if it is hit by an animal's body, so the state of the fence line can be maintained.
Product specifications
| | |
| --- | --- |
| 直径 | 20mm角 |
| 全長 | 96cm |
| 地上高 | 78cm |
| 打ち込み深さ | 18cm |
| ガイシ数 | 7個 |
| ガイシ間隔 | 10cm |
| 重さ | 310g(1本) |