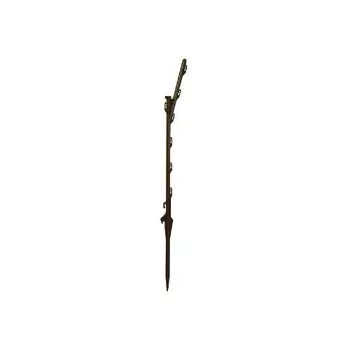 商品説明
strength and durability
Good and Kodori of two materials
The FRP core material, which is strong, lightweight, and has excellent flexibility, has good weather resistance.
Props made with Tiger's unique technology (patented) molded from highly insulating PP resin.

Amenity
Easy work Insulator integrated type
Posts with insulators that do not require the work of installing insulators or adjusting the height.
Since insulators are attached at intervals of 10 cm, just drive in the posts and hook the fence line.
You can easily install an electric fence.
There are net mounting hooks on the top and bottom of the inside of the post, so you can use the electric fence and the net together.
It can also be installed.

impact resistance
Reliable design that is strong against driving
A durable polycarbonate is used for the cap and tip that receive impact when driving.
Improved impact resistance at the time of driving.
Ribs on the tip prevent the post from rotating after driving.


Product specifications
| | |
| --- | --- |
| メーカー名 | タイガー |
| タイプ | Y型 |
| 直径 | 16mm角 |
| 全長 | 83cm |
| 地上高 | 57cm |
| 質量 | 120g |
| 対応動物 | イノシシ・アライグマ・ハクビシン |