出荷日目安:

Ships within 5 business days
Regular price
Sale price
¥14,182
Unit price
per
Sale
Sold out
View full details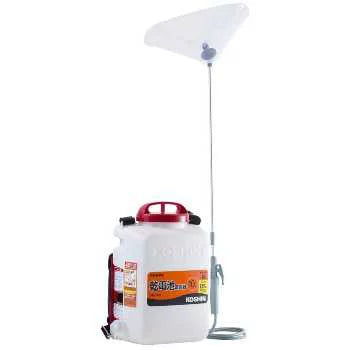 商品説明
●With 6 single alkaline batteries, it can be sprayed for about 4 hours!
●Easy spraying with one switch. Quiet diaphragm pump
●Diaphragm pumps are less likely to stick and can be used with peace of mind.
*Batteries are sold separately.
*Some drugs cannot be used. Please check the "Major Drug Compatibility List".
*For available nozzles, refer to the "Adaptation table of dynamic injection parts".

Product specifications
| | |
| --- | --- |
| タンク容量 | 10リットル |
| モーター | 直流7.2Vモーター |
| ポンプ | ダイヤフラムポンプ |
| ポンプ最高圧力 | 締め切り時:0.27MPa(2.7kgf/cm2) |
| ポンプ噴口 | 自在二頭口噴口/泡状除草噴口(カバー付) |
| ポンプ噴霧量 | [一頭口噴口時]0.45L/分 [二頭口噴口時]0.68L/分 [泡状除草噴口時]0.55L/分 ※値は当社テスト値であり保証値ではありません。吐出量、作業時間は使用環境によって変化します。 |
| ポンプ噴霧圧力 | [一頭口噴口時]0.26MPa [二頭口噴口時]0.16MPa [泡状除草噴口時]0.22MPa ※値は当社テスト値であり保証値ではありません。吐出量、作業時間は使用環境によって変化します。 |
| ポンプ噴霧可能目安 | [一頭口噴口時]100L(約10杯) [二頭口噴口時]160L(約16杯) [泡状除草噴口時]130L(約13杯) |
| ポンプ噴霧目安 | 二頭口(霧):0.5m (直射):約4m 泡状除草:幅約0.5m、カバー付泡状除草:幅約0.35m |
| 乾電池 | 単一形乾電池 6本(別売) |
| 作業時間目安 | 約4時間(アルカリ乾電池使用時) ※環境温度や乾電池の温度が高い時は電池容量が少なくなり、作業時間が短くなります。又、マンガン電池の場合は、使用時間が約半分になります。 |
| 本体重量 | 3.3kg(電池含む4.2kg) |
| 付属品 | ノズルパイプ(60cm):1ヶ、計量カップ:1ヶ、自在に頭口噴口:1ヶ、泡状除草噴口:1ヶ、カバー付泡状除草噴口:1ヶ |