出荷日目安:

Ships within 5 business days
Regular price
Sale price
¥9,600
Unit price
per
Sale
Sold out
View full details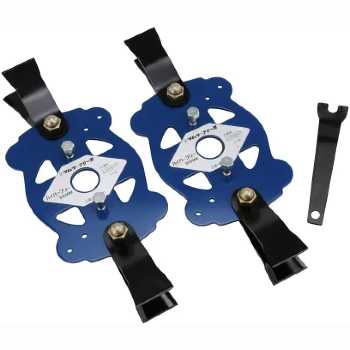 商品説明
● Free cutting blade set for self-propelled two-sided furrow mower.
●Upper and lower 2-stage blade crushes the grass finely, leaving clean cut marks.
●The rotating free blade reduces the impact of hard objects such as rocks, reducing damage to the machine itself.
●Uses a genuine fixed bolt that does not rotate together with the free blade, ensuring safety without enlarging the hole in the base.
● It is safe because there is little scattering of stones, etc.
●The free structure absorbs impact from hard objects such as stones, so the blade wears less and can be used for a long time.

Product specifications
| | |
| --- | --- |
| 本体サイズ | 幅31mm×高さ4mm×奥行16mm |
| スパナサイズ | 幅142mm×高さ14mm×奥行32mm |
| M8ボルトサイズ | 幅40mm×高さ12mm×奥行12mm |
| 直径8バネ座金サイズ | 幅15mm×高さ4mm×奥行15mm |
| 重量 | (本体)784g・(スパナ)53g・(M8ボルト)16g・(直径8バネ座金)2g |
| 本体基盤 | SK−85 |
| 刃 | SK−85 |
| セット内容 | 本体2セット・スパナ1個・M8ボルト・バネ座金各4個(左右の刃の位相を90度ずらしセットして下さい。) |