出荷日目安:

Ships within 5 business days
Regular price
Sale price
¥61,818
Unit price
per
Sale
Sold out
View full details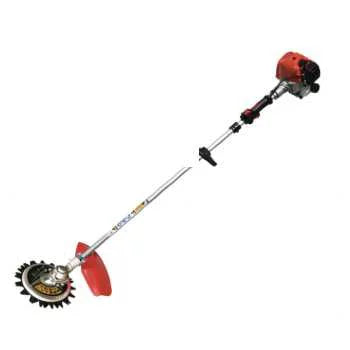 商品説明
1. Safe with less stone splashing
The reduction gear box inside the attachment reduces the engine speed to about 1/20.
This speed reduction mechanism and the rotating scissors drive of the upper and lower blades enable efficient mowing of grass even at low speed rotation and control of scattering of stones and the like.

2. Can cut edge
Even if the cutting blade touches an obstacle, there is little rebounding, making edge cutting smooth and safe.

3. Increase work efficiency in dangerous places
You can work safely and efficiently in places where conventional high-speed blades would be dangerous, such as parks with people, roads with many vehicles, and around buildings.

The decelerating rotating scissors type cuts weeds by pinching them, so it basically does not cut objects (about 1.5 cm or more in diameter) that are not pinched.
The blade is not sharpened on the outside, making it a safe design that does not damage objects that come into contact with it. It is also used as a countermeasure against cutting cables such as FP pipes. It is also possible to further reduce the risk of cutting by changing the blade to a "fine blade".

4. Resistant to water
With a scissors cutting method that rotates up and down at low speed and a simple waterproof structure, there is no suction or rebound on the water surface compared to a single blade, and you can safely cut grass even at the water's edge such as between rice paddies.

5. Grass won't wrap around
The integrated structure of the gear case and the output shaft realizes a donut-shaped blade with no core, eliminating the entanglement of grass around the shaft.

6. Safety secret "Rotating scissors & reduction drive gear system"
A speed reduction mechanism based on our unique technology solves the danger of mowing.

7. Feel free to put it on the ground
Since it rotates at a low speed, it can be cut by placing it on the ground and sliding it compared to the single-blade method that cuts by floating the cutting blade from the ground.
Moreover, the rotation of the lower blade moves the cutting blade like a top, so no extra force is required.

8. Improved adhesion of cutting blades
The unique structure of the bottom plate fixing metal fittings significantly improves the adhesion between the upper and lower blades, and at the same time enables automatic adjustment of the gap between the blades.

9. Easy maintenance and repair
It has an epoch-making structure that allows the upper and lower blades to be easily removed simply by using needle nose pliers or snap ring pliers to remove the bottom plate stopper.
The main body can be disassembled, making it easy to replace and repair internal gears.

10. Can be attached to your brush cutter
It can be attached to most brush cutters with the included adapter. *It cannot be installed on some special brush cutters.

Product specifications
| | |
| --- | --- |
| ハンドル仕様 | ループハンドル |
| 重量(kg) | 6.2(両手) |
| 全長×全幅×全高(mm) | 1880x645x240 |
| 型式 | 2サイクルエンジン |
| 総排気量(cc) | 25.6 |
| 使用燃料 | 混合ガソリン(50:1) |
| 運転時間 | 高速/約30分 低速/約50分 |
| 燃料タンク容量(L) | 0.6 |