出荷日目安:

Ships within 3-4 business days
Regular price
¥2,250
Sale price
¥2,250
Unit price
per
Sale
Sold out
View full details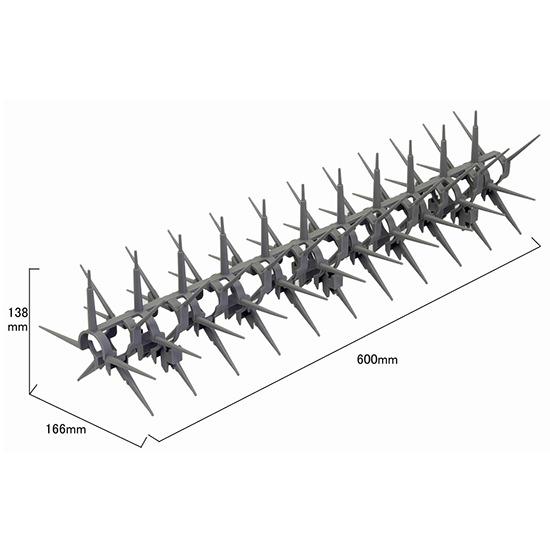 商品説明
Easy installation by just fitting from the top of the pipe. It is a bird-proof sword mount with a special structure that can be installed even in twisted or curved places. Suitable for pipe-shaped places with a diameter of about 30 to 50φ. It has a special structure that follows twists and curves, and can be installed simply by fitting it in from above.
In addition, it can be cut to the desired length. It is extremely durable and can be put on and taken off repeatedly. Electric power companies use it for wire protection tubes. *When installing on pipes with a diameter of 30 to 35 mm or 45 to 50 mm, be sure to use a stainless steel band (sold separately) if there is a concern that it may fall off.
customer's voice
Installation location : commercial facility
Installation location: Concrete, metal, various boards, etc.
"There is a light above the entrance of the store, and pigeons will perch and poop there, so we wanted to set it up in consideration of the inconvenience to our customers. Pigeons stopped around the perimeter of the building and the lighting area, and the situation was quite severe.
A cover type is adopted for the thin tubular part of the lighting. The cover type is fitted from above, and a stainless steel band is used in the center to prevent falling. The cover type is easy to install, but we use type 1 and type 2 bird-proof kenzan for the roof top. 』
Precautions for installation
●When installing on pipes of φ30-35 mm or φ45-50 mm, or if there is a concern that it may fall off, be sure to use the stainless steel band (sold separately ).
●Avoid using commercially available resin zip ties, which can easily break even if they are weather resistant.
●The main unit expands and contracts slightly due to the temperature, so when installing multiple units, space them about 10mm apart.
●It is a specification that is widely adopted by electric power companies. It is used for wire protection tubes, etc.
3 types of kenzan that can be selected according to each situation
We have 3 types of kenzan depending on the type of bird and the situation. As a countermeasure against pigeons, starlings, crows, bulbuls, egrets, black-tailed gulls, and seagulls, you can choose the type that suits you best. Both are made of weather-resistant plastic that has cleared outdoor weather resistance tests for 10 years. In addition, a cover type with a special structure is convenient for a pipe-shaped place.
Anti-chokenzan "Type 1"
For measures against pigeons, starlings, and brown-eared bulbuls. "Type 1" with a needle length of 10 cm is a standard type with excellent cost performance for preventive use.
Learn more>>
Product specifications
| | |
| --- | --- |
| サイズ | 高さ138mm×横幅600mm×奥行き166mm |
| 素材 | ポリエチレン・ポリプロピレン製(耐候性)/グレー色 |