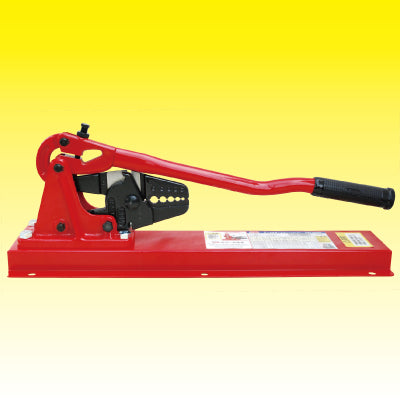 商品説明
This crimping machine is necessary for crimping clamps in the manufacturing process of tying traps. It is a dedicated tool that can both cut and crimp (swage) wire ropes.
This product is a desktop type, so you can crimp and cut with one hand. If you are looking for a handy type, please see this page .
Features and precautions for use
〇 When crimping, be sure to use a clamp (sleeve) suitable for the wire diameter.
〇In addition to tying traps, it is also very useful for various work using wire ropes, such as preventing falling of signboards / vending machines, preventing ceiling lights from falling, etc.

○ Made in Japan with integrated in-house production from forging to processing to assembly.

○ Please check the video for how to use.
○Nominal size 600mm
Total length 454mm
Usable wire rope diameter 1.5/2.0/2.5/2.8/3.0/3.5/4.0/5.0mm
1 knife weight 5.2kg