出荷日目安:

Ships within 7 business days
Regular price
Sale price
¥60,000
Unit price
per
Sale
Sold out
View full details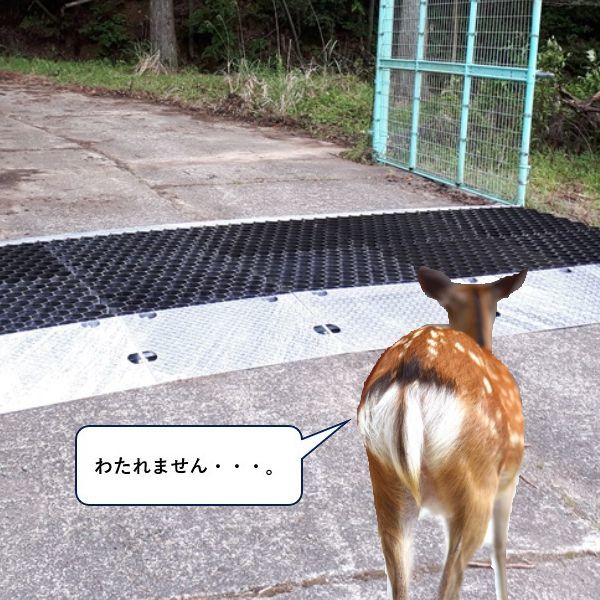 商品説明
This is an intrusion prevention floor (sold as a standard unit) that allows people and cars to pass through, but repels wild boars and deer. It is especially recommended for those who are worried about the entry and exit of the anti-animal fence. Please use it in combination with a dedicated slope (sold separately) .
By adopting a special "olefin-based cross-linked resin", it can be used for a long time with little change in physical properties under ultraviolet rays and low temperature environments. It also has excellent strength, impact resistance, and chemical resistance (especially alkali resistance and acid resistance).
Click here for a list of other anti-animal products>>
Anti-intrusion flooring that deer and wild boars repel
〇It is an intrusion prevention floor with a "honeycomb (hexagonal) structure" that boars and deer avoid.
〇 First, please watch the video below. You can see the deer giving up trying to enter.

〇 A product that combines lightness and load capacity, and can be installed and moved by human power without using heavy machinery. Easy construction, high weather resistance and high durability. Easy maintenance.
〇 The avoidance behavior of wild boars is as follows (at night). You can observe the behavior of turning back from around 14 seconds after the start of the video.
Construction method
(1) Allocation
Determine the number and layout of installations according to the size of the installation location.
② Spread
According to the determined layout, the main body and the slope are laid out.
③ Connect the main body and slope
If necessary, connect the main body and the slope with commercially available bolts, etc.
About allocation
〇 The figure is an example of arrangement of 3 rows wide x 2 rows deep.
〇 The main body (1 piece) is width: 900mm depth: 790mm height: 120mm.
〇 The slope (1 piece) is width: 900mm depth: 550mm height: 120mm.
〇 There is a hexagonal hole for connection, and the size of the hole is 91mm x 85mm.
* Walkability and running performance may be lower than on normal road surfaces. If necessary, please post with white lines or signboards to alert people.
*Please consider using it together with a protective fence instead of just installing it alone.
Product specifications
| | |
| --- | --- |
| 重さ | 約20kg |
| サイズ | 幅:900mm 奥行き:790mm 高さ:120mm |