出荷日目安:

Ships within 7 business days
Regular price
Sale price
¥43,000
Unit price
per
Sale
Sold out
View full details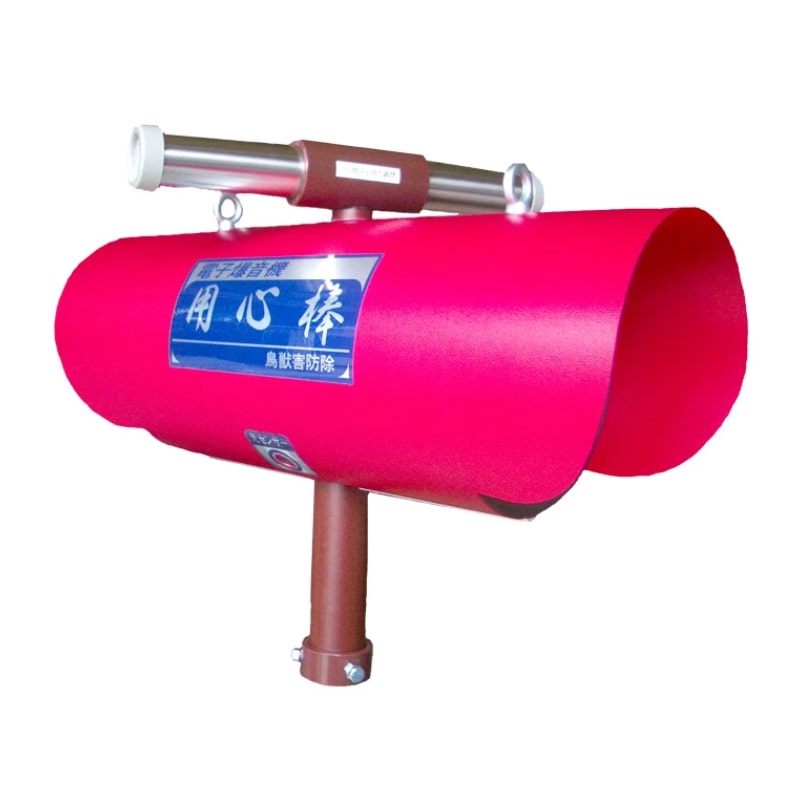 商品説明
It is an electronic control machine that repels birds and beasts with electronic sound and high frequency sound. It was developed for the purpose of controlling noise pollution by safe electronic sound as a countermeasure against explosion noise pollution such as gas explosion machines. It is widely used in rice fields, orchards, fields, factories, and fish farms. It is effective against wildlife such as birds, wild boars, deer, bears and monkeys.
We also have the latest model for crows, the crow bodyguard SS KRS-SS1 . Beast Yojimbo KMN-1 , the latest model exclusively for wild boars, deer, and bears, is also available.
Simple, safe and low cost! Easy automatic control
〇Since it is small and lightweight, it can be easily moved by women and the elderly. Unlike conventional gas, there is no danger of explosion or accidental discharge.
〇 High-frequency sound: A high-pitched high-pitched sound that warns birds and beasts in four directions is automatically repeated at intervals of 80 seconds.
〇Electronic sound: Threatens with an electronic sound for 10 seconds every 7 minutes.
〇The effective range depends on the environment, but the radius is about 50m to 100m.
★Installation
〇By installing it correctly according to the installation method, it is rainproof. However, in the event of a typhoon or heavy rain, please remove it or take separate rainproof measures.
〇 Depending on the installation location, please prepare a prop (diameter 25 mm to 30 mm) and fixing metal fittings separately.
〇The power supply is not included. Please purchase a 12V battery/battery box for automobiles at a home center. Simply connect with an alligator clip to complete the connection.
*With a 12V battery 40B19 for light vehicles, it can operate for about 15 days.
〇 In the case of bird countermeasures, the brightness sensor is set to automatically operate from "early morning" when damage is concentrated. The day/night setting switch allows you to switch between daytime operation and nighttime operation.
〇Since it is a device that evades by sound, if there is a private house in the neighborhood, it will be subject to noise and complaints, so please be considerate. If there is a private house nearby, please use it at a distance of 300m or more during the day and 400m or more at night.
Product specifications
| | |
| --- | --- |
| 重さ | 約4kg (バッテリーコード5m含む) |
| サイズ | 縦:47cm 横:40cm 奥行き:16cm |