出荷日目安:

Ships within 1-2 business days
書籍
22,000円以上で送料無料
一冊丸ごと狩猟(ハンティング)をテーマに、すべての狩猟者たちに役立つ情報満載ムックです。ビギナーからベテランまでお楽みいただける狩猟専門誌です。趣味の狩猟者を主読者に、獲り方、料理、皮や骨の活用法、狩猟道具紹介、狩猟にまつわる読み物、捕獲管理による山野の保全や命との向き合い方、安全狩猟の啓蒙など、幅広い内容で狩猟の世界へといざないます。
その他、書籍はこちらから。
Regular price
Sale price
¥1,500
Unit price
per
Sale
Sold out
View full details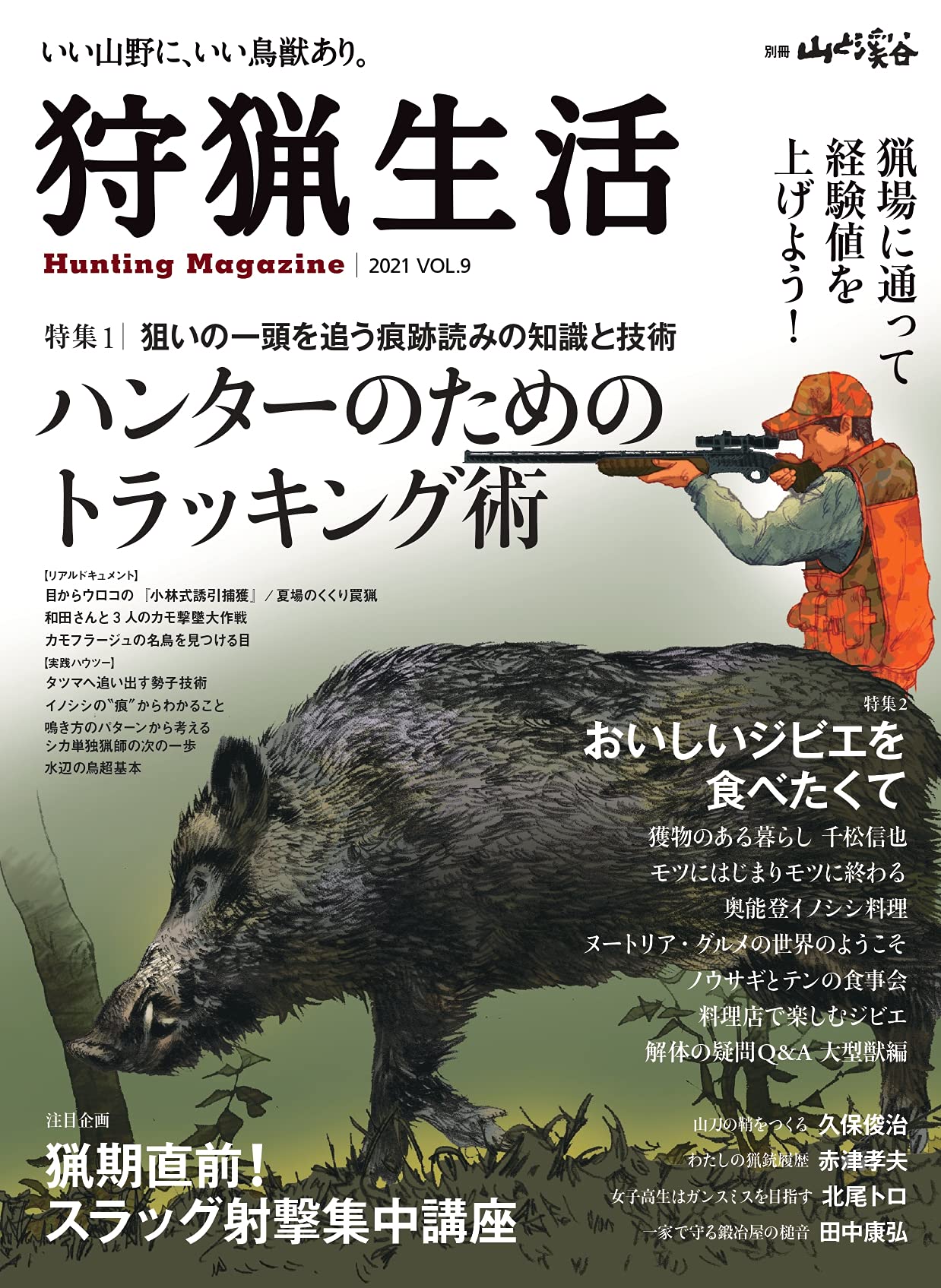 商品説明
The whole book is a mook full of useful information for all hunters, with the theme of hunting . Released three times a year in March, July, and November.
A specialized hunting magazine that can be enjoyed by beginners and veterans alike. Primarily for hobby hunters, it covers a wide range of subjects, including how to catch fish, how to cook, how to use skins and bones, introduction to hunting tools, reading materials related to hunting, how to conserve the mountains and fields through capture management, how to face life, and enlightenment on safe hunting. The content invites you to the world of hunting.

Use all your wisdom and physical strength to hunt your prey, cut it up, and enjoy it. Hunting is a culture that has continued uninterrupted, and there is a world of self-sufficiency in hunting that we tend to forget when we live casually. In this book, we carefully explain the fun and severity of hunting, from obtaining a hunting license, which is essential for hunting in Japan. In addition, we carefully explain the wisdom and techniques for catching, how to utilize prey, and the meaning of hunting in modern times when food is easily available. We cover and report on the activities of local governments and hunters who are at the forefront of wildlife damage control in recent years.
Other books can be found here .
Contents of this magazine
Go to the hunting grounds and increase your experience!
Feature 1: Tracking techniques for hunters
-Trace reading knowledge and skills to follow the target

real document
Do not chase prey. invite. "Kobayashi-style attracting capture" with scales from the eyes / summer trapping Wada-san and the Three Camo Shoot-Down Operations/Eyes that Find the Famous Birds of Camouflage
Practical how-to
Teachings of Seko (1) Seko techniques to drive out to Tatsuma / Teachings of Seko (2) What can be learned from the "marks" of wild boars / Thinking about the next step for lone deer hunters from the pattern of how to call / Waterside bird super basics
Feature 2: I want to eat delicious game meat
Life with prey Shinya Senmatsu / Beginning with Motsu and ending with Motsu Shigeki Yamauchi / Oku-Noto Wild Boar Cuisine Fujiko Fukuoka Welcome to the World of Nutria Gourmet Shinya Nakamura, Takahashi Takahashi / Hare and Ten Meal Party Yukio Miyazawa / Gibier Enjoyed at a Restaurant / Q&A on Dismantling Large Beasts Norimasa Kakiuchi, etc.

Featured project
Right before hunting season! Slug shooting intensive course People who learned = Takeda barbecue
Other projects
Making Machete Sheath Toshiharu Kubo / My Hunting Gun Journey Takao Akatsu / Tale of Matagi Tateiwa [Part 2] Yusuke Arai / Visiting the Manufacturing Site ⑧ The Hammering Sound of the Blacksmith Who Protects the Family Yasuhiro Tanaka / All About Hunting ⑦ High School Girls Are Gunsmiths Aiming Kitao Toro / Regional revitalization initiative report 9 Can gibier save the region / National shooting range & gun store guide / Tools to make hunting comfortable, etc.
Product specifications
| | |
| --- | --- |
| ページ | 146ページ |
| 発売日 | 2021/10/14 |
| 出版社 | 山と渓谷社 |
| 言語 | 日本語 |
| 寸法 | 18.2 x 1.1 x 25.7 cm |
| ISBN-10 | 4635907449 |
| ISBN-13 | 978-4635907446 |