出荷日目安:

Ships within 7 business days
送料無料
アイデア商品
お手持ちの一輪車に取り付け、電動化するためのキットです。タイヤが電気の力で回るようになります。
Regular price
Sale price
¥90,800
Unit price
per
Sale
Sold out
View full details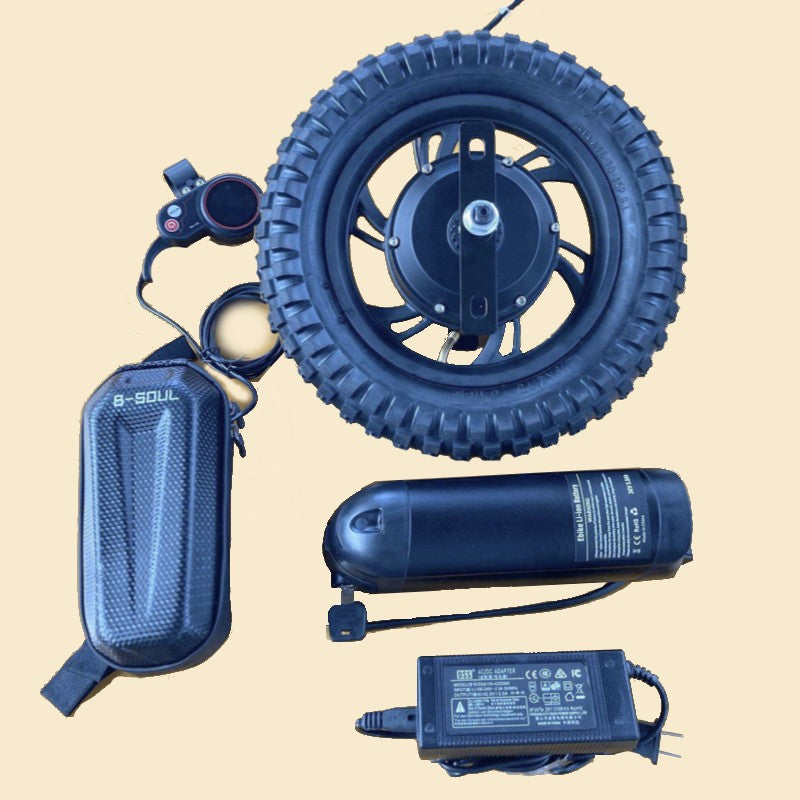 商品説明
This product "E-Cat kit" is a kit that can be attached to your unicycle (also known as a cat cart, wheelbarrow, etc.) and electrified. (Please note that the vehicle is not included ).
Since the tires are powered by electricity, the work speed is about twice that of conventional unicycles (depending on the environment and conditions). It can be easily transported even on terraced fields, slopes, tree roots and soft soil.
Not only is it useful for transporting agricultural work, but it is also great for transporting wild boars and deer captured during hunting.
Easy attachment to general standard unicycle
◯ Simply replace the tires on your unicycle with the tires included with this product, and attach the battery, controller, and accelerator to complete installation.
◯ The total weight of this product is about 5kg. Due to its light weight, it can be lifted by one person and can be easily loaded onto a light truck or monorack.
◯ It can be carried with one hand even with a load capacity of 120 kg and a slope of 30 degrees.
◯ The motor is built into the central axis of the wheel and is powered by the included lithium battery.
Description of each part
About accessories
Motor built-in wheel, lithium battery, charger, controller, controller bag, accelerator lever & display and manual are included.
Accelerator lever & display
The accelerator lever and display are attached to the handle of the unicycle. The speed can be adjusted in 5 stages with the button on the lever. It can also be adjusted by pulling the accelerator lever.
lithium battery
The battery is easily removable (use the key to remove the battery). Using a dedicated charger, you can charge from a household outlet. Charging time is about 3 hours.
About installation conditions
Can be attached to most commercially available unicycles
The mounting part must have a U-shaped groove.
Size of U-shaped groove
The size must be such that a shaft of 12 mm or more and 19 mm or less can be attached.
Width of mounting part
The width of the mounting part must be 105 mm or more.
before purchase
○ Please refer to the above mounting conditions for the availability of installation. Most of the unicycles that are generally distributed in Japan are of the same standard (tire diameter 340-370mm). Basically all can be attached to the type called deep type 3 years old.
○Depending on the frame, it may be necessary to devise and process the installation of the battery and controller bag.
○ Assembly time is about 30 minutes at the fastest for an experienced person. If it's your first time, allow 1 hour and 30 minutes.
○The waterproof level is splash proof. There is no problem as long as it gets wet. Submersion in a deep puddle may cause malfunction. Exposure to rain can cause malfunction. Store in a place where it will not be exposed to rain.
★We also recommend a lightweight, foldable plastic box cart . Click here for a list of useful goods for hunting
Product specifications
| | |
| --- | --- |
| 重さ | 約5㎏ |
| 大きさ | 直径約320mm(一輪車タイヤの外形より小さくなります) |
| 耐荷重 | 100kg(フレーム強度にお気を付けください) |
| 電源 | 36Vバッテリー |
| 動力 | インホイールモーター |
| 走行速度 | ~6km/h(荷重により変動します) |
| 動作時間 | 連続2~3時間強(荷重により変動します) |
| 登坂性能 | 20°程度(荷重により変動します) |
| 防水・防塵 | IP65相当 |