出荷日目安:

Ships within 3-4 business days
Regular price
Sale price
¥25,000
Unit price
per
Sale
Sold out
View full details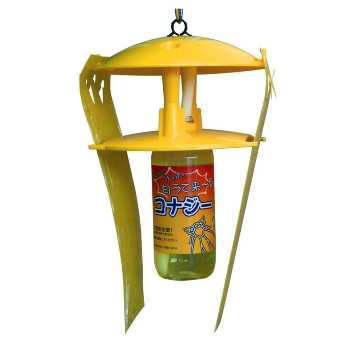 商品説明
*Price is for 10 sets.
10 yellow adhesive sheets are included.

"CKZ-100" is an active type whitefly prediction insect trap that attracts whiteflies and tobacco whiteflies, which are said to be impossible to catch with the same control method, by smell (conergy) and color (adhesive sheet), and attaches them to the adhesive sheet.
You can install this machine before the number of whiteflies increases and use it as a survey tool to determine the guideline for pesticide spraying.

【feature】
"Conergy", which uses food-derived raw materials, is sucked up with fiber rods and diffuses the smell, making it easier to attract whiteflies.
In addition, two commercially available adhesive sheets can be attached to this machine, and it is a product that allows you to judge the pesticide spraying according to the type and number of pests attached to the adhesive sheet.
The double effect of smell (conergy) and color (adhesive sheet) enables early control of whiteflies and reduction of damage to crops by predicting the occurrence of whiteflies.

●The raw material uses food-derived aromatic ingredients, and the smell spreads for about 3 months.
●Pesticide ingredients are not included.
●Yellow is due to food coloring.

! Note!
Store and manage to prevent accidental ingestion.
Do not spray directly on crops or splash them.

[Points when installing! ]
●Installed at the beginning of cultivation before pests appear, and the number of installed units is 1 unit per 100 square meters (1a).
●The height of the installation should be 0.5 to 1m above the ground.
●It is a research tool that shows the timing of pesticide spraying by counting the number of insects caught on the adhesive sheet.
● Install in a location that is not exposed to strong winds such as blowers.


Product specifications
| | |
| --- | --- |
| 機体寸法 | 全幅Φ17×全高15.5cm |
| 質量 | 100g(本体のみ) |
| 設置方法 | 約100m2(10m×10m)に一台 |
| 設置高さ | 地上0.5〜1mが目安 |
| 使用形態 | 吊り下げ型 |
| 交換品 | 市販の粘着シート(黄)、コナジーセット |