出荷日目安:

Ships within 5 business days
Regular price
Sale price
¥15,273
Unit price
per
Sale
Sold out
View full details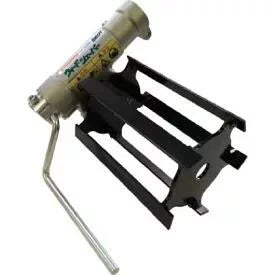 商品説明
1. Shaving short weeds Reduces fatigue when working in a standing position Short weeds that occur between crops, furrows, grounds, etc. in the field can be scraped together with the soil. The low-speed rotation is safe, and the rotor is strong against stones, so you can cut weeds even in gravel fields. In addition, you can cut weeds efficiently while standing, reducing fatigue.


* Weeds exceeding 5 cm from the ground surface may get tangled in the rotor and prevent it from performing as intended. Please use it as a "grass scraper" for short weeds.

2. Suppresses weeds Since it has the effect of damaging the roots of weeds, it is possible to reduce the number of weeding operations per year.

3. Ideal for stirring fertilizers, etc. The high torque firmly bites into the soil, making it ideal not only for shaving grass, but also for stirring fertilizers, etc.

4. Newly designed "high reduction/high torque" gear box
Reduces engine speed to 1/30 and increases engine torque by 30 times. You can remove weeds safely and powerfully by rotating slowly.

5. Shaving depth adjustment function You can adjust the shaving depth with the adjustment bar.

6. Use as if rolling on the ground Place the cage rotor on the ground and use as if rolling. When used against the direction of rotation (pulling work), it digs deep into the soil and scrapes weeds cleanly. It can also be used horizontally, so you can work efficiently even in large areas such as grounds.

7. Easy maintenance Since the "snap pin" can be removed using a tool such as radio pliers, it is easy to replace the rotor, remove tangled grass, and perform maintenance.

8. Can be attached to your existing brush cutter.It can be attached to most brush cutters with the included adapter. *It cannot be installed on some special brush cutters.
Product specifications
| | |
| --- | --- |
| 全長×全幅×全高(mm) | 183×203×110 |
| 本体質量(kg) | 1.3(ギヤヘッド含む) |
| 用途 | 畑・グランド・砂利場などの草削り。肥料などの撹拌。 |
| 付属品 | アダプターKIT |