出荷日目安:

Ships within 5 business days
Regular price
Sale price
¥15,273
Unit price
per
Sale
Sold out
View full details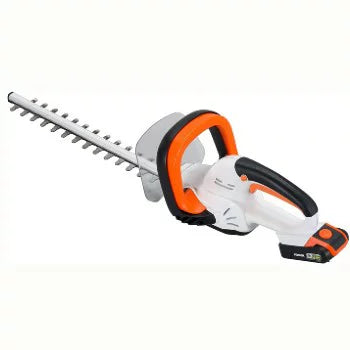 商品説明
Product information
With lock function to prevent malfunction
There are anti-malfunction buttons on both sides whether you are right-handed or left-handed. In addition, it is a safe start that does not operate unless you hold it with both hands.
A special blade shape that is easy to cut without missing branches, even though it is difficult to injure
Since the cutting edge of the blade is rounded, it is a safe design that will not hurt your hand even if you accidentally bring it close.
Equipped with motor burn-in protection function
Equipped with a protection function that stops if the motor temperature rises during work.
● Powerful cutting. powerful pruning.
Maximum cutting branch diameter 18mm! When fully charged, a fence with a height of 1m can be cut up to 100m!
Product specifications
| | |
| --- | --- |
| モーター | ブラシモーター |
| バッテリー種類 | リチウムイオン |
| 電圧 | DC 18V |
| バッテリー容量 | 2.0Ah |
| 充電時間 | 約60分(※気温やバッテリーの充電残量などにより異なります。) |
| 運転時間(満充電無負荷) | 約50分 |
| 刈込幅 | 350mm |
| ストローク数 | 1200min-1 |
| 最大切断径(木材) | 18mm |
| 本体サイズ | 805×185×180mm |
| 本体重量 | 2.7kg(※バッテリーなど付属品含む。) |
| 付属品 | ブレード・ブレードケース |
| バッテリー・充電器 | 18Vバッテリー・急速充電器 |