出荷日目安:

Ships within 1-2 business days
Regular price
Sale price
¥8,455
Unit price
per
Sale
Sold out
View full details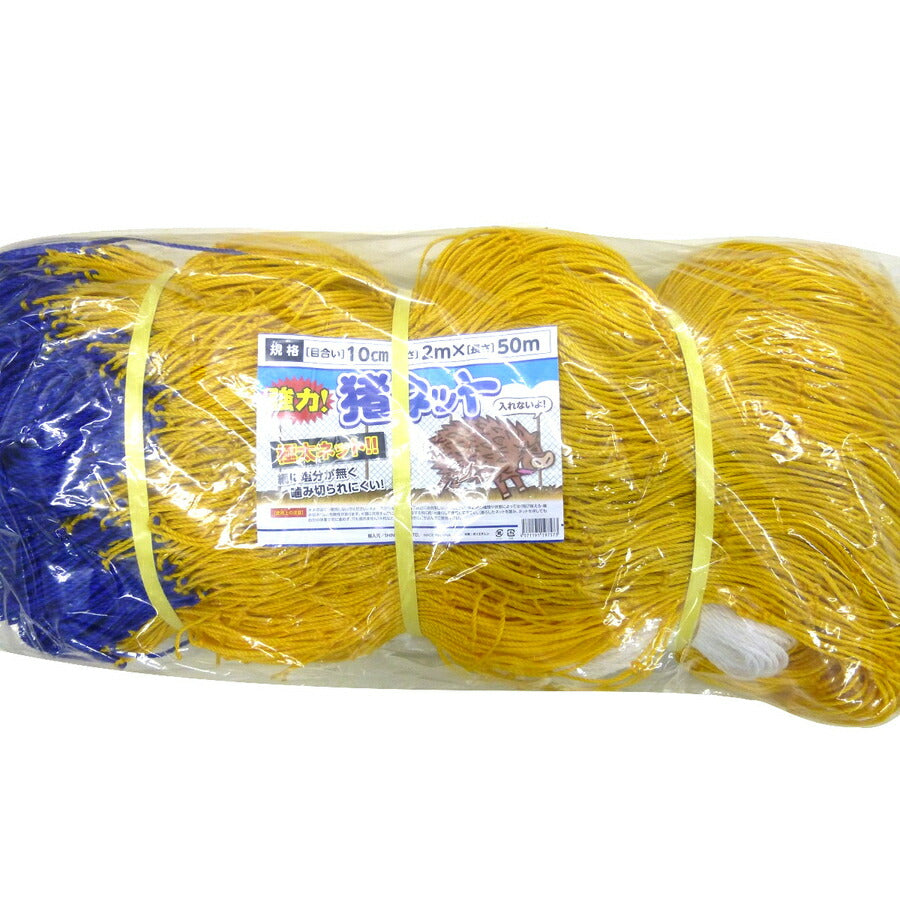 商品説明
◆We protect important crops from animal damage.
・There is no salt in the net and it is difficult to bite off.
- Comes with a rope for easy netting.
・Do not use it to support people or heavy objects or to prevent them from falling.
・Depending on the type and condition of the animal, there is a risk of jumping over it or biting it off.
・Please use stakes etc. driven in every 2-3m.
*Stands, etc. are not included.

Click here for a list of other anti-animal products>>
Anti-Beast Net List
animal net
Powerful type★
animal net
strong fence net
universal net
380D
bird net
Animal & Versatile Net Set
multipurpose net
small animal net
With wild boar net tension rope
wild boar net
Hand braided rope specifications
monkey net
With Inoshika Net Stain
Hand braided rope specifications
Strong boar net with stainless steel
height
1m
1.5m
2m
1m
2m
1m
2m
2m
1m
1.2m
1.5m
1.7m
2m
3m
2m
2m
length
10m
20m
50m
50m
50m
5m
20m
2m
3m
3m
10m
15m
20m
20m
20m
20m
20m
50m
eyesight
16mm
20×25mm
37.5mm
25mm
16mm
16mm
150mm
30mm
160mm
120mm
45mm
100mm
100mm
Material
polyethylene
polyethylene
polyethylene
polyethylene
polyethylene
polyethylene
polyethylene
polyethylene
polyethylene
polyethylene
polyethylene
polyethylene
2 stainless steel wires included
polyethylene
8 stainless steel wires
Usage
You can choose the height and length to protect a wide range of fields from balconies and kitchen gardens to fields.
Prevents intrusion of dogs, cats, weasels, etc. It can be installed without spoiling the scenery.
For protecting narrow areas such as balconies and garbage storage areas. The short length makes it easy to install.
For small area protection. The fine mesh is also useful for small birds and small animals such as sparrows and starlings.
It comes with a support and can be installed by itself. Protect fields and kitchen gardens from wild animals.
Versatile 1.2m x 15m all-purpose net. It can be used for a variety of purposes, such as cultivating climbing plants, as well as anti-animal and anti-bird.
For preventing entry of small animals such as raccoon dogs, cats, and palm civets. The fine mesh is difficult to bite through.
It protects your precious crops from wild boars and deer. It can be easily installed with a rope that can be easily stretched.
The net is soft and easy to entangle, making it difficult for monkeys to climb. More effective when used in conjunction with an electric fence.
It protects the fields from wild boars and deer. Strong type with stainless steel wire that is hard to bite off.
Product specifications
| | |
| --- | --- |
| サイズ | 2m×50m |
| 目合 | 10cm |
| カラー | 黄 |
| 材質 | ポリエチレン |