出荷日目安:

Ships within 5 business days
送料はカートに追加後、お届け先住所を入力いただくと自動計算されます。住所には必ず法人名をご入力ください。
法人名の記載例:農業の場合は「○○農園、△△畜産」お店の場合は「□□商店、××倉庫」など
商品は車上渡しとなりますので、受取場所にてフォークリフトなどの重機や人員を配備ください。5セット以上のご注文、または個人宅の場合は、都度お見積りとなりますので、ご相談ください。
超軽量
安価・丈夫
さまざまな養生用途として使える、シリーズ最軽量の樹脂製敷板です。
用途の例:作業用ではない土地の一時的な足場として。軽トラやトラクター下の敷板として。防草シートの代わりとして、または防草シートを設置した場所への車両が入る場合にも。農業用途以外でも、様々な用途でご使用いただけます。
Regular price
Sale price
¥36,000
Unit price
per
Sale
Sold out
View full details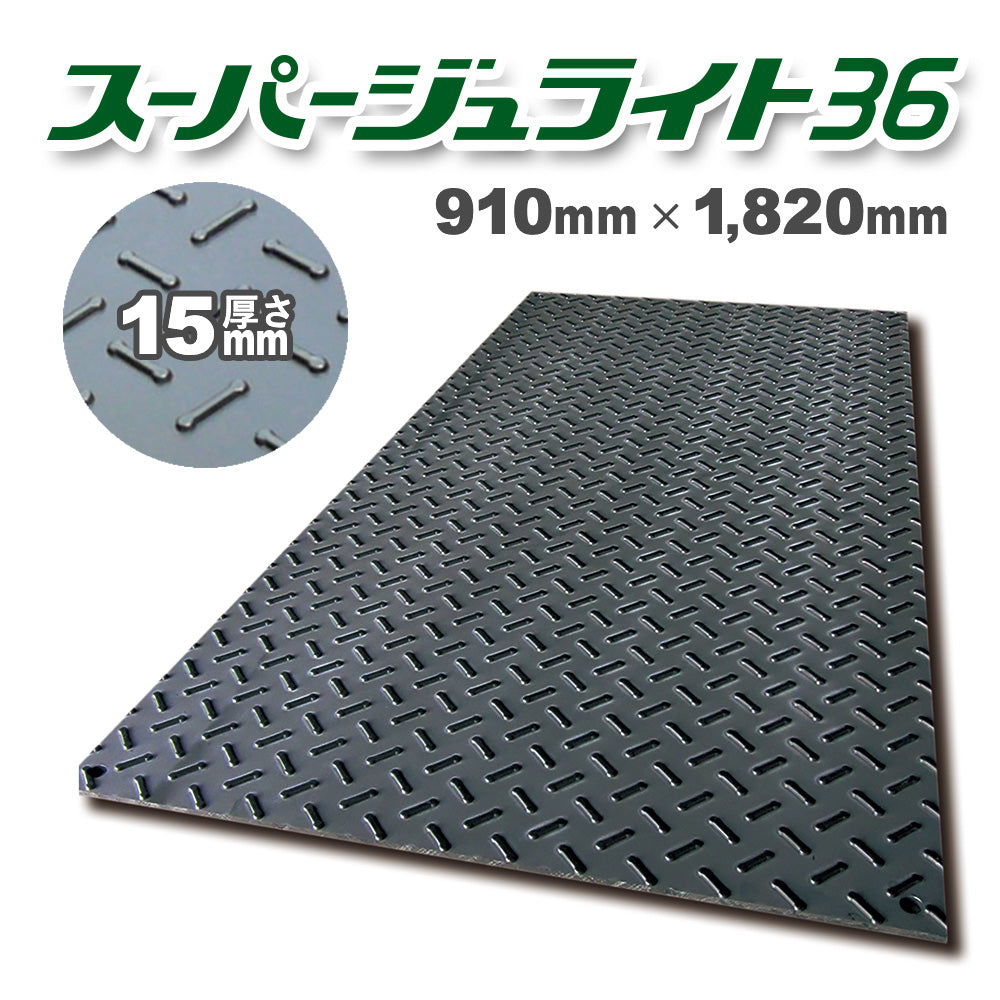 商品説明
A high-quality, ultra-lightweight resin flooring board produced in an ISO14001-certified domestic factory. It is durable and hard to break, yet flexible enough to be rolled up and carried. The highly versatile 3 x 6 size (910 mm wide x 1,820 mm long) weighs 19 kg per sheet, so you can easily lay it out without using heavy machinery.
It can be used for various purposes such as curing around the house, farm work sites, temporary parking lots, workshops, material storage areas, and warehouses for agricultural machinery and light trucks. In addition, because it is lightweight, it is easy to use even in general households, and it can be carried smoothly at construction sites and events without manpower.
We are also waiting for various estimates and inquiries such as "Can it be used for this purpose?" Please contact us using this form .
Examples of using Julite
Agricultural use, of course, is very active in various curing applications. We have a lot of experience with government agencies and local governments. Manufactured using extrusion press simultaneous molding technology (patented manufacturing method) boasted by a domestic manufacturer with 50 years of plastic manufacturing (Keiyo Kogyo Co., Ltd.: Chiba Prefecture) , we have absolute confidence in the durability of the product. If the base is strong enough, it can withstand a gross vehicle weight of 80 tons.
It is tough, highly safe, flexible and adapts well to the ground. With 3mm convex on one side, it can be used for both running and walking of heavy machinery. It is a product that is very easy to handle because it is a size that is easy to use at any site and is lightweight enough to be held with one hand.

We recommend Super Julite M2 , which is one size larger, for use over a wide area.
Curing of dry field passage
When working in the rice field with heavy machinery, it does not get muddy even if it rains. It is less likely to get dirty and improves work efficiency.
Foot protection for outdoor sales
For protecting your feet at outdoor events. It is completely waterproof, so it can be easily installed and removed even on rainy days.
Construction equipment storage area
For protection of concrete etc. as curing when storing heavy equipment such as heavy machinery. It is also recommended as a curing agent when temporarily storing our box traps .
Precautions when using for road surface curing: Can be used in places with a solid base such as the ground. Since it is a thin plate, we recommend rolling the substrate before use. If rolling compaction is not possible, thicker products are available.
Advantages compared to other curing methods
Hard to deteriorate
Won't rust like steel floorboards. It is characterized by a long service life because it uses a resin (Super Durite) that does not easily deteriorate in physical properties. It doesn't get dirty easily, and of course it can be washed with water.
Gentle on substrate
Hard materials such as iron plates have the disadvantage of being difficult to blend in with the substrate, but this product blends in with the substrate due to its flexibility. Also, you don't have to worry about the ground becoming hard after being installed for a while.
Light and easy to process
Because it is super lightweight, it can be easily lifted (hand-held drilling is also possible as an option). Cutting and drilling are also possible with power tools. Some people process it well and use it as an underlay for pesticide storage.
Precautions for use
● Cannot be used to block U-shaped grooves, holes, cavities, etc.
● It cannot be used as a base plate for outriggers of cranes or as a base.
● Do not use on soft ground or steep slopes.
● When driving a vehicle on the product, do not make sudden starts, stops, or sharp turns. The board may shift or be blown away. Even if it is connected with a binding band to prevent slippage, the above operation may cause it to come off.
● In environments with strong winds or gusts of wind, use anchors, etc., to secure the boards to the ground so that they do not fly away. If danger such as a typhoon is expected, please remove the floor board. In addition, since it floats on water, please fix it so that it will not be washed away by heavy rain.
● When using as an underlay for welding work, etc., please use a flame-retardant sheet on top. It cannot be used in direct fire such as bonfire.
"Gacchiri Anchor" convenient to use together
If you hit it to a certain extent, the anchor will naturally rotate and enter the ground.
Anchor for driving Rakuban into the ground when fixing it to the base. It is an easy-to-handle product that strikes a good balance between ease of driving and ease of pulling out.
Drive in the anchor shaft with a hammer while turning it clockwise. If you hit it to some extent, the anchor will naturally rotate and enter the ground. Installation is completed if you drive it until it stops rotating.
Click here for details of Gacchiri Anchor>>
*When driving, please wear gloves and other protective equipment, and be careful of stones in the ground.
Product specifications
| | |
| --- | --- |
| サイズ | 巾910mm×長さ1,820mm |
| 厚さ | 15mm |
| 断面仕様 | 厚み12+表面凸3 |
| 仕様 | 再生ポリエチレン樹脂製 |
| 重さ | 19kg |
| 外気温の範囲 | 気温-15℃から50℃前後(常用時) |