出荷日目安:

Ships within 3-4 business days
Regular price
¥22,000
Sale price
¥22,000
Unit price
per
Sale
Sold out
View full details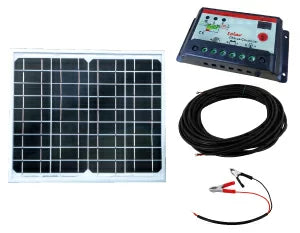 商品説明
[Solar charger]
* Please use it for lead-acid batteries (liquid-filled type, sealed type). Only for 12V lead battery.
Lithium-ion batteries and nickel-metal hydride batteries cannot be charged.
*When using to charge the battery of the electric fence, please select the panel size or more of each manufacturer.
Also, it cannot be used by connecting directly to the instrument. Please use it by connecting to your 12V lead battery.

Charge a 12V lead battery with solar power! !
●Long cable set (15m) for easy installation on indoor machines.
●Wiring can be easily installed with a flathead screwdriver! !
●Rechargeable without removing the battery wiring! ! (slow charge)
●The controller prevents overcharging and backflow, making it easy to check the operation.
set content
1 5W panel, 1 solar controller Check-kun, 15m cable for Kit-kun, 1 battery controller cable *Batteries are not included.
Product line-up