出荷日目安:

Ships within 5 business days
Regular price
Sale price
¥28,909
Unit price
per
Sale
Sold out
View full details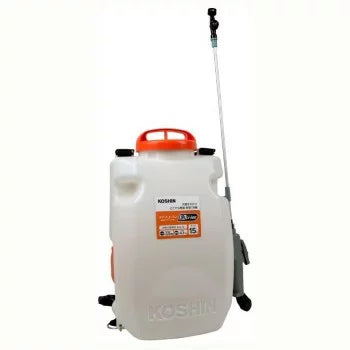 商品説明
Product information
● Easy to use rechargeable sprayer. Simple, quiet, no exhaust gas!
● Smart Koshin series common battery
Since it is a common battery with the lawn mower (SLT-1820), it can be used as a spare battery for any model of sprayer or lawn mower.
High power equivalent to an engine can be used for disinfecting tall trees
High pressure same as engine driven injection (cascade type).
Comes with a spout that can be used to disinfect tall trees, so you can disinfect not only fields but also garden trees with this one unit!
Long life as liquid medicine does not stick easily
It uses a diaphragm pump.
● Corresponds to sticking in case of emergency
There is a hose connection port at the bottom of the tank where you can connect the water hose and fix it.
Reduce the burden on your back
The waist belt and auxiliary band keep the tank in close contact with the back, making it easier to carry.
Product specifications
| | |
| --- | --- |
| タンク容量 | 15L |
| ポンプ | ダイヤフラムポンプ |
| 最高圧力 | 締め切り時:0.3MPa(3kgf/cm2) |
| 噴口 | 縦型二頭口噴口/カバー付泡状除草噴口 |
| 作業時間目安 | 約3.5時間 |
| 噴霧量 | [縦型二頭口噴口時]0.67L/分/[カバー付泡状除草噴口時]0.5L/分 |
| 噴霧圧力 | [縦型二頭口噴口時]0.26MPa/[カバー付泡状除草噴口時]0.28MPa |
| 噴霧可能目安 | [縦型二頭口噴口時]140L(タンク約9.3杯分)/[カバー付泡状除草噴口時]105L(タンク約7杯分) |
| バッテリー | リチウムイオンバッテリー 18V 2.0Ah |
| 充電器 | 急速充電AC-100V(50Hz・60Hz) |
| 標準充電時間 | 約60分(※バッテリー1コにつき ※バッテリー2コ使用時) |
| 本体重量 | 3.6kg |
| 主な付属品 | 急速充電器:1ヶ、バッテリーパック:1ヶ |
| 付属噴口 | 噴口接続部 G1/4、ノズルパイプ接続部 G1/4、ノズル長さ60cm |