出荷日目安:

Ships within 5 business days
メーカー直送
金属製を上回る強度をもち、錆の心配もいらない樹脂製コンテナです。食品・作物はもちろん、袋や紙のパッケージ商品・石材・鋼材・精密機器など、様々なものの運搬・保管に活躍するロングセラー商品です。
Regular price
Sale price
¥57,000
Unit price
per
Sale
Sold out
View full details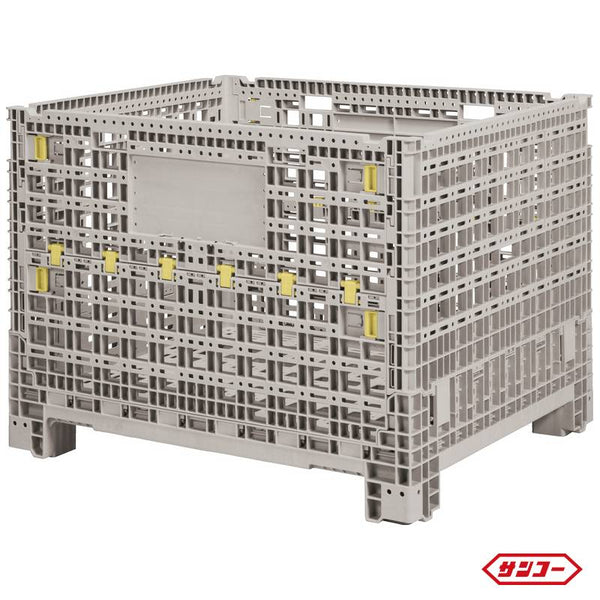 商品説明
A resin container that is stronger than metal and does not need to worry about rust. It is a long-selling product that plays an active role in the transportation and storage of various items such as bags, paper package products, stone materials, steel materials, and precision equipment, as well as food and crops.
Solve the problem of metal mesh pallets (mesh boxes)!
Eliminates the rust problem associated with metal pallets
Especially when handling food, the problem of rust contamination is an inseparable phenomenon, but the basic countermeasure is not to use materials that rust easily . When used outdoors, rain and dew can cause metal to rust easily, but even indoors, rust can occur when dust on the metal absorbs moisture.

All parts of this product are made of resin, so there is no need to worry about rusting, which not only improves the quality of transported goods, but also reduces the risk of contamination in subsequent processes.
*Press the play button in the image above to see the video of the assembly work and features.
Cost reduction by improving the damage of the contents
In the case of metal pallets, the edges of the mesh stump, and in the case of wooden frames, there is a risk of damage to the contents due to hangnails, etc. In addition, in the case of a wooden frame, color transfer to the contents may occur due to rain.

On the other hand, there are no edges that could damage the contents, and of course there is no color transfer. For example, there is no need to worry about damaging materials such as leafy vegetables or paper-packed products that are vulnerable to tearing, so waste and complaints can be reduced.
Light weight and high strength.
Improved service life and work efficiency
It uses a special reinforced polypropylene that has a high level of bending resistance, heat resistance, and impact resistance, and achieves strength that exceeds that of metal mesh. It is highly weather resistant and does not easily deteriorate even when used outdoors.

In addition, since it is much lighter than metal mesh, work efficiency can be greatly improved. Compared to pallets that are heavy and difficult to move, it is easier to fine-tune the load and does not damage the floor, eliminating the need for floor protection covers.
Latest molding technology "Tufflight G Technology"
The mechanical properties of the molded product have been greatly strengthened , and the weight has been reduced by approximately 20% compared to metal, while maintaining high rigidity .

Not only can it store and transport fragile products, but it is also lightweight and easy to handle while maintaining sufficient strength to load and transport heavy objects such as stones as shown in the photo. It is a material that can be said to be an innovation from metal and wooden pallets.

The stacking strength is twice that of metal , and the bending strength is 2.5 times that of conventional products (compared to PP containing 20% ​​filler) , making it a highly reliable and durable material. In addition, since it is a material that is resistant to heat and can be used up to 120°C, it is possible to load high-temperature castings and pass the entire container through the steaming process.

*Please be careful of similar products. Even if the appearance and materials are similar, the performance is different from products using "Tough Light G Technology".
Introduction of introduction results
No more worries about collapse!
●Conventionally, cardboard boxes for transporting products were stored on pallets. However, there was a problem of frequent collapse of cargo due to frequent movement. As a countermeasure, film winding was implemented, but it was very frequent and took a lot of time and effort, and a lot of garbage was generated.
●Since the TL Comparator is a box type, the cardboard box fits within the four sides, so there is no need to worry about the contents collapsing even when lifted. In addition, packaging materials that are uncomfortable to sit on can be transported together, improving the appearance.
You no longer need to take measures against scratches on the floor!
●In the past, metal mesh box pallets were used to store precision electronic equipment parts. A separate protective cover was required because the appearance was poor due to rust generated over time, and the legs were scratching the floor. Furthermore, there was also the problem that the door could only be opened on one long side, resulting in poor workability.
●The introduction of the TL Comparator has improved the appearance of the machine even when used for a long period of time, and has improved the image during factory tours. In addition, it is no longer necessary to protect the floor from scratches. With doors on both long sides, workability has been improved.
Double work efficiency!
● Conventionally, pallets were used to transport products. However, because the package has a special design and is not box-shaped, it is difficult to stack products stably, and only 100 bags can be loaded on a pallet.
●Switching to the TL comparator has made it easier to stack unstable packages, doubling the efficiency of pallet loading. There is no need to worry about damage to the load, and since it can be folded when not in use, it takes up less storage space.
Specifications that reflect voices from the field
Card mountable for content display
A mechanism is provided to attach a card that describes the contents. Please use it for management and organization, such as displaying the recipient when using it as a returnable box.
Space saving
Each side can be folded inwards to save space when not in use. It can be opened half way, so you can easily put in and take out the contents.
Casters can be attached*
Casters (rubber casters: 2 fixed wheels + 2 flexible wheels (with stoppers)) can be attached for easy movement.
*Optional. The cost will be quoted separately.
Comparison table by size
| F#540 (capacity: 535L) | F#830 (capacity: 833.5L) | F#880 (capacity: 883.2L) |
| --- | --- | --- |
| | | |
| External dimensions (mm): 1030 x 840 x 855 | External dimensions (mm): 1200 x 1020 x 905 | External dimensions (mm): 1200 x 1020 x 950 |
| Effective internal dimensions (mm): 980 x 780 x 680 | Effective internal dimensions (mm): 1150 x 960 x 735 | Effective internal dimensions (mm): 1150 x 960 x 780 |
| Compressive load: 201.4kN | Compressive load: 234.4kN | Compressive load: 228.0kN |
| Load capacity: 1500kg | Load capacity: 1000kg | Load capacity: 1000kg |
| Weight: 39.7kg | Weight: 50.4kg | Weight: 50.8kg |
| Total height when folded: 320mm | Total height when folded: 320mm | Total height when folded: 320mm |