ジビエ加工
送料無料
イノシシ・シカを捕獲、解体後のジビエ加工に。肉だけでなくパン、野菜、果物などを綺麗に均一にスライスできます。
Regular price
Sale price
¥18,000
Unit price
per
Sale
Sold out
View full details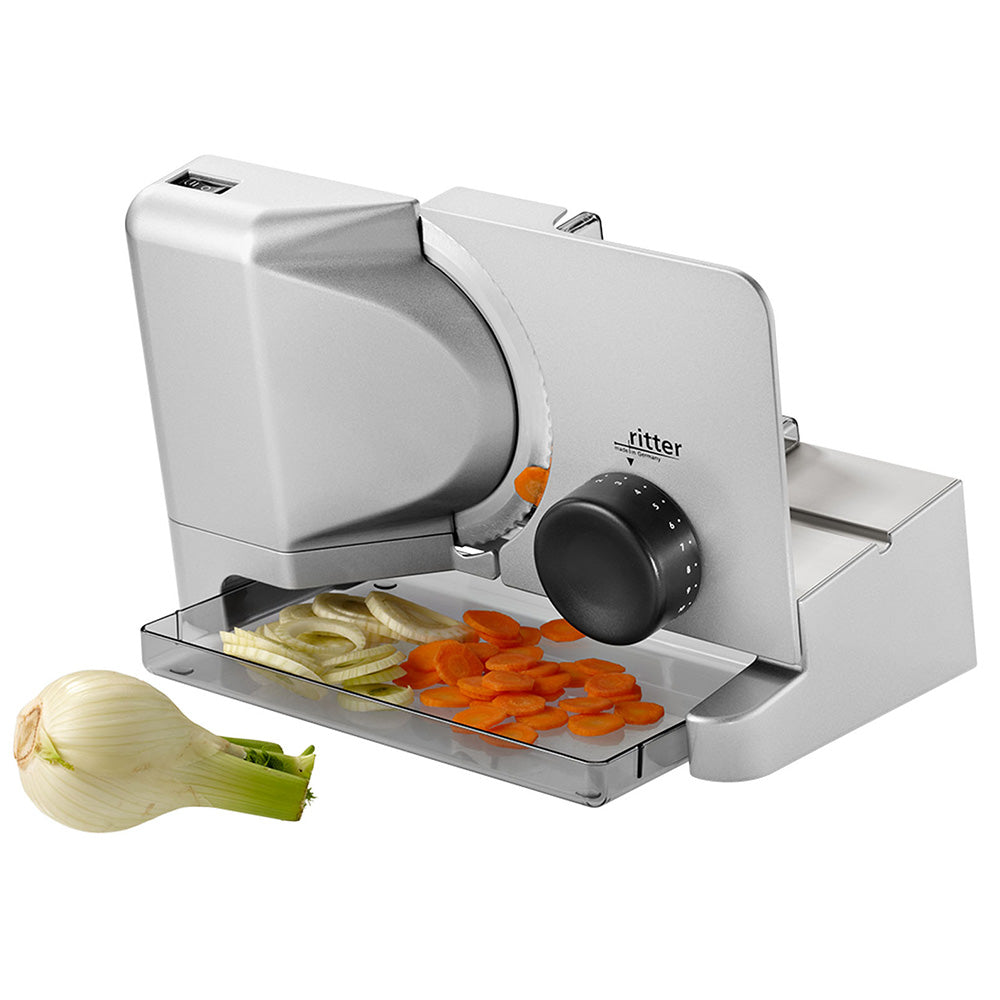 商品説明
A ritter slicer that is perfect for processing wild boars and deer after they have been dismantled. It is possible to slice meat uniformly and speedily. Not only meat, but also ham, cheese, bread, as well as delicate ingredients such as fruits and vegetables can be sliced ​​cleanly. When slicing chunks of meat such as wild boar and deer in a half-thawed state, you can slice it neatly with less scattering of meat pieces.

*Completely frozen meat cannot be sliced. Slice it when it is exposed to room temperature and partially thawed.
Compact high performance slicer
Ritter, a kitchen appliance manufacturer with a history of over 100 years in Germany, continues to offer slicers that are high quality, safe, and keep up with the times.
Adjustable slice thickness in millimeters
The slice width can be adjusted steplessly up to 20 mm with a dial. Because it is compact, you can work in a small space, and you do not have to worry about storage space. Smaller ingredients can be safely sliced ​​to the end by using the included holder.
*The approximate size of food that can be sliced ​​is 18 cm wide x 13 cm deep x 13.5 cm high . Please cut large ingredients in advance before using.
*Completely frozen meat and vegetables cannot be sliced. Slice it when it is exposed to room temperature and partially thawed.
Clean with water
Parts other than the main body can be washed with water. You can keep it clean by removing removable parts such as the rotating blade from the main body and washing it with water. Wipe off any dirt on the main unit with a wet towel.
*The main body cannot be washed with water.
* When cleaning parts, do not use detergents containing abrasives.
▲This is a boar meat recipe that uses a slicer.
*Gibier may be infected with various parasites or viruses if it is raw or undercooked, so please heat it so that it is thoroughly cooked to the center before eating. Please be careful when handling such as disinfection of contact equipment.
Product specifications
| | |
| --- | --- |
| サイズ | 幅22.2cm x 奥行33.2cm x 高さ22.7cm、 刃直径:16.7cm |
| 仕様 | AC100V130W(50/60Hz)、定格時間:5分間、 コード長さ:1.0m |
| 材質 | 本体:ABS樹脂、アルミニウム  刃:ステンレススチール |
| セット内容 | 本体、ホルダー、トレー各1 |
| 製造国 | ドイツ |