出荷日目安:

Ships within 3-4 business days
Regular price
Sale price
¥6,800
Unit price
per
Sale
Sold out
View full details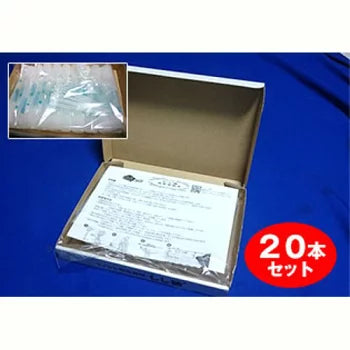 商品説明
Shishi-proof here is amazing!
●The main component of the repellent ingredient is a food additive grade liquid, so it is highly safe and secure.
- Start repelling just by folding the repelling stick lightly.
● Easy installation without large-scale equipment and power supply!
●About 10 grams per stick. Easy to carry even in the mountains.
●Because it is made of plastic, it is resistant to rain and releases slowly.
●Since it is a product that appeals to the olfactory sense of wild boars, humans can hardly perceive the smell.
●The quality retention period is 3 years from the date of manufacture. The expiration date is as long as one year after the glass ampoule is broken.
● Shishi-proof is safe and secure made in Japan. Manufactured in a domestic factory.
A new wild boar countermeasure with outstanding effects!
Leopard-proof composition
With the thicker side of the "Shishi-proof" facing down, fold it lightly until it clicks. Bend it 2-3 times while changing where you fold it. With the thick side of the "shishi-proof" facing up, lightly shake it up and down several times to mix the liquids together.
Precautions regarding the installation location
Please do not install it on a downhill as much as possible!
Although wild boars are smart and wary animals, they can "break through the stench of deer" in their downhill momentum.
Example of installation
Stretch a rope or the like in the installation area, and secure it with a cable tie at a height of about 40m to 80cm from the ground at intervals of about 1.5m to 2m.
*It is recommended to install it on an existing wire mesh or electric fence.
*It is recommended to devise a way for the wild boar to stop near the repellent.
* Please change the installation range according to the size of the individual.