出荷日目安:

Ships within 7 business days
発売開始から60年のノウハウをもとに、使いやすいと評判の爆音機です。強烈な爆発音によって執拗に来る鳥類やサルを追い払います。
Regular price
Sale price
¥62,000
Unit price
per
Sale
Sold out
View full details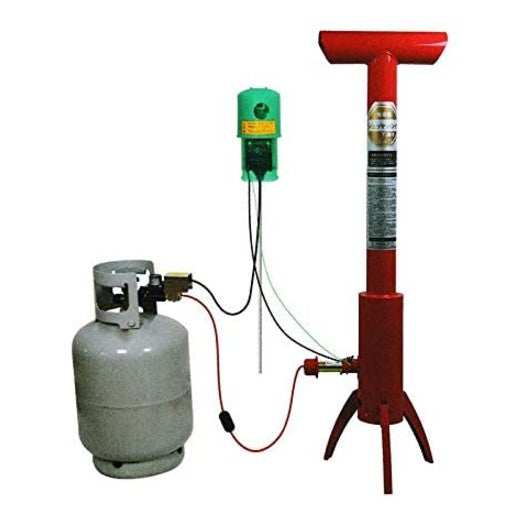 商品説明
It is a blower that can be connected to propane gas and can scare away birds and monkeys with a powerful explosive sound. The interval at which the explosive sound is emitted can be adjusted with the included controller dial (stepless adjustment from approximately 30 seconds to approximately 10 minutes). In addition, since the built-in light sensor distinguishes between day and night, you can choose to operate only during the day or only at night by switching. Based on 60 years of know-how since its launch, this product has a reputation for being easy to use.
* Since a loud explosion sound will be generated, please consider the operation time if there is an address nearby.
Products suitable for bird control in orchards, fields, and airports
Target animals: crows, starlings, bulbuls, sparrows, monkeys
〇 With automatic day/night switch
〇 Gas usage period: 120 days (when using a 10 kg cylinder / volume "medium" / 14 hours per day at intervals of 2.5 minutes)
〇Battery usage period: Approximately 60 days (14 hours per day at 2.5 minute intervals / when using a single alkaline battery)
〇 Accessories: Driver / Danger board x 2 / Earplugs / Instruction manual
*Precautions for use: If direct sunlight is strong, install the gas cylinder so that it is in the shade. Requires 3 x 2 dry cell batteries, so please prepare them separately.
Product specifications
| | |
| --- | --- |
| 昼夜検知方式 | 光センサー |
| 運転間隔 | 約30秒〜約10分 |
| 電源 | DC4.5V |
| 使用ガス | プロパンガス |
| 威嚇方法 | 爆発音 |
| ガス使用期間 | 約120日(10㎏ボンベを使用し音量を中で運転した場合) |
| 音の大きさ | 100〜120デシベル |
| 電池使用期間 | 約60日 |
| 運転モード | 昼/夜 |
| 重さ | 6㎏ |