出荷日目安:

Ships within 1-2 business days
Regular price
Sale price
¥18,000
Unit price
per
Sale
Sold out
View full details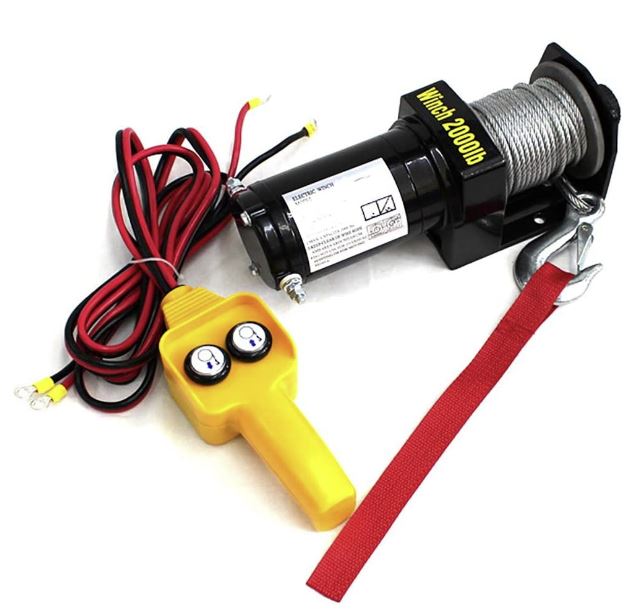 商品説明
Ideal for moving after catching wild boars and deer. This winch is small but powerful and durable. Comes with a wired remote control that can be used by connecting to the car's DC12V battery. A magnet type motor that can be used semi-permanently is adopted. It is also recommended to keep it in your car in case of emergency.
*Winches are categorized as "hoisting machines", and when handling an electric winch, it is necessary to take a special education called "special education for operating a hoisting machine" and obtain a qualification (certificate of completion).
Click here for a list of other useful hunting items>>
Ideal for loading and moving after capture
★Prepare the winch base separately after checking the dimensions of the base.
〇 Horizontal traction capacity: 907 kg (2000 LBS)
〇Cable used: φ4.8mm×9.2m
〇 Remote control cable (approximately): remote control ⇔ main unit 1120 mm, remote control ⇔ battery 1300 mm
〇Weight: 5kg
〇 Size: Length 285 x Width 100 x Height 103mm
〇 Winding speed: about 3.2m/min (at no load), about 2.2m/min (1000lbs), about 0.9m/min (2000lbs)
〇 Hook strap: about 295 x 24mm (hook part: 60m width)
〇 Waterproof specification
For safe use
-This product is designed to be towed horizontally. Unloading up and down is not possible.
● Keep the vehicle engine running while the winch is operating. If you do this with the engine turned off, the battery may run out and you may not be able to restart the engine.
● Do not drive the vehicle while the winch is pulling an object.
●Do not get close to the wire rope, hook, or winch while the winch is in use.
Product specifications
| | |
| --- | --- |
| 電源 | DC12Vバッテリー専用 |
| 水平牽引能力 | 907kg |
| ギア比 | 153:1 |
| モーター | 永久磁石 0.7kw/0.9hp |
| ケーブル | 直径 4.8mm、長さ 9.2m |
| ドラムサイズ | 直径 31.5mm、長さ 71mm |
| サイズ | 長さ285×幅100×高さ103mm |
| 重量 | 約5kg |
| 商品内容 | 本体・コントローラー・フックストラップ・取り付けボルトナット・英語版取扱説明書 |