出荷日目安:

Ships within 5 business days
Regular price
¥62,364
Sale price
¥55,000
Unit price
per
Sale
Sold out
View full details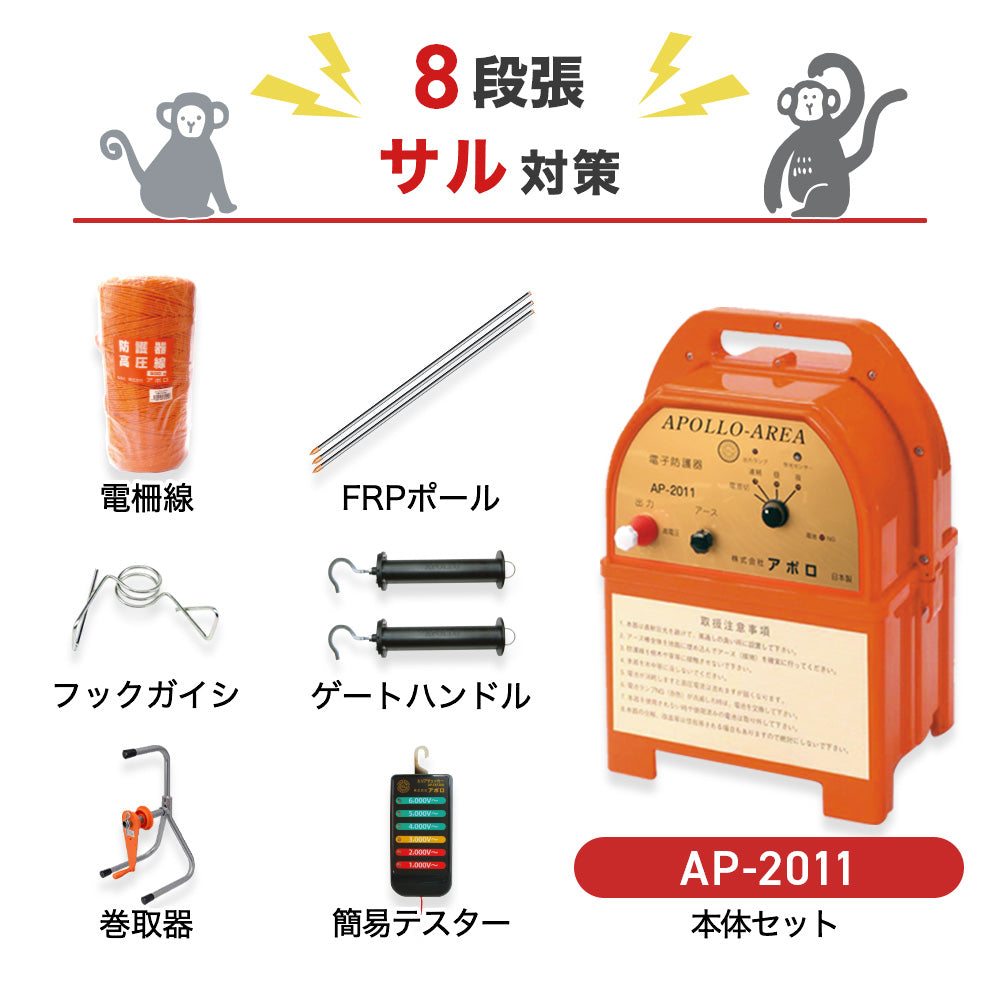 商品説明
Please check before ordering
○ This product is a set that includes the main body, a 200m circumference x 2-step support, and an electric wire. This set is recommended as a measure against wild boars around 200m.
* If you purchase fence lines, hooks, and gate handles separately, you can use it with 3 or more stages.
○ With 10W solar panel & battery for solar charging
You can drive it without purchasing a power supply separately. This is the type that does not come with a solar panel .
○The maximum cable length per unit is 3,000 m. *Varies depending on installation conditions.
○Considering the sunshine on the main unit, install the solar panel in a location that is not shaded, facing due south. If the installation direction or the panel surface is shaded, the charging may be insufficient.
○ It is necessary to install the main unit so that it does not touch the ground. Please prepare wooden stakes separately according to the ground of the installation place. * Mounting brackets for fixing to wooden stakes are included with this product.
○Although this device is rainproof, install it on a brick or a wooden pole to prevent it from being submerged in water.
○ Please install a caution signboard using an electric fence (also included with this product) in a position where people can easily see it.
○Please be careful not to allow children to come near the installation location.
Product composition
This set includes the following A and B necessary for an electric fence. It's a bargain compared to buying each unit.
A: Body set :
Main unit Solar panel Dedicated battery Three ground rods Main unit mounting bracket High voltage wire
B: Wire set :
◯FRP poles (Φ20mm x height 1,850mm)・・・50
◯ Hook insulator for Φ20mm・・・100pcs
Electric fence line (500m)・・・1 roll
◯ Area checker ... 1 piece
◯ Gate handle ... 2 sets
◯ Hazard sign board ... 1 sheet
Ultimate anti-animal measures with an electric fence from a specialized manufacturer
Can be installed in places where there is no power supply
Since it is solar powered, it can be used in places where there is no power supply. The free solar energy is effectively used, and the energy generated by the solar panel is stored in a special battery. The stored energy is used to power the system, so it works even in bad weather and at night.
Outstanding ease of use
The operation is simple, so you can easily switch the operation. When the battery level is low, the power lamp flashes green.
It is also possible to set the operating time
It is also possible to detect the brightness of the surroundings and automatically operate "drinking during the day" and "only at night". Can be set with a changeover switch ("Continuous": Operates continuously day and night. "Day": Operates only during the bright day. "Night": Operates only at night when it gets dark.)
Wild boar countermeasures (two-tiered)
Wild boars have very sensitive noses, so the fence should be placed at the height of the nose. *Even if you try to hit the body, the effect will be diluted.
Drive the post (FRP pole in the figure) 20 to 30 cm into the ground. The standard distance between poles is 200-400cm (adjust according to the terrain). Install two insulators per pole at intervals of 20cm. Connect the connecting lines at intervals of 50 meters.
Product line-up
Product specifications
| | |
| --- | --- |
| 入力電源(DC) | 単一アルカリ乾電池×8(1日12時間使用で約50日稼働します)、12Vバッテリー(別売)、ACアダプター(別売)、ソーラーパネル(別売) |
| 出力電圧(DC) | 約10,000V |
| 本体出力ランプ | 高圧が出力されている時に点灯します。 |
| 本体外形寸法 | 巾205mm×奥行155mm×高さ310mm |
| 本体重量 | 約3.0kg |
| 付属品 | ページ内記載の「商品の構成」「電線セット一覧」にてご確認ください。 |