出荷日目安:

Ships within 7 business days
Regular price
Sale price
¥101,818
Unit price
per
Sale
Sold out
View full details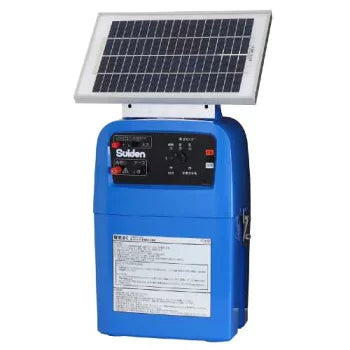 商品説明
Product features
You don't have to worry about charging for a long time because you can drive while charging with the solar panel.
*Charging may not be performed sufficiently due to the effects of sunlight hours and installation location.
Check the battery charge lamp.

* Because it is a solar-only model, you cannot use an AC adapter or dry batteries.
Product specifications
タイプ
ソーラー専用タイプ
品番
SEF-100-S
電源
DC12V(ソーラーパネル、バッテリー)
出力電圧
最大10,000V
出力間隔
約1秒
運転切替
「連続」「昼」「夜」
最大有効距離
3,000m
稼働日数の目安
バッテリー 昼夜連続運転:約22日間/夜間運転のみ:約45日間
本体寸法
幅×高さ×奥行き 260×395×170mm
本体質量
3.4kg(ソーラーパネル含む)(バッテリー含まず)
付属品
・高電圧出力線
・アース棒(2連)
・取付金具(40Bバッテリー用)
・危険表示板(1枚)
・バッテリー接続コード
・DC12Vバッテリー(40B19)
・ソーラーパネル
備考
バッテリー:40B19