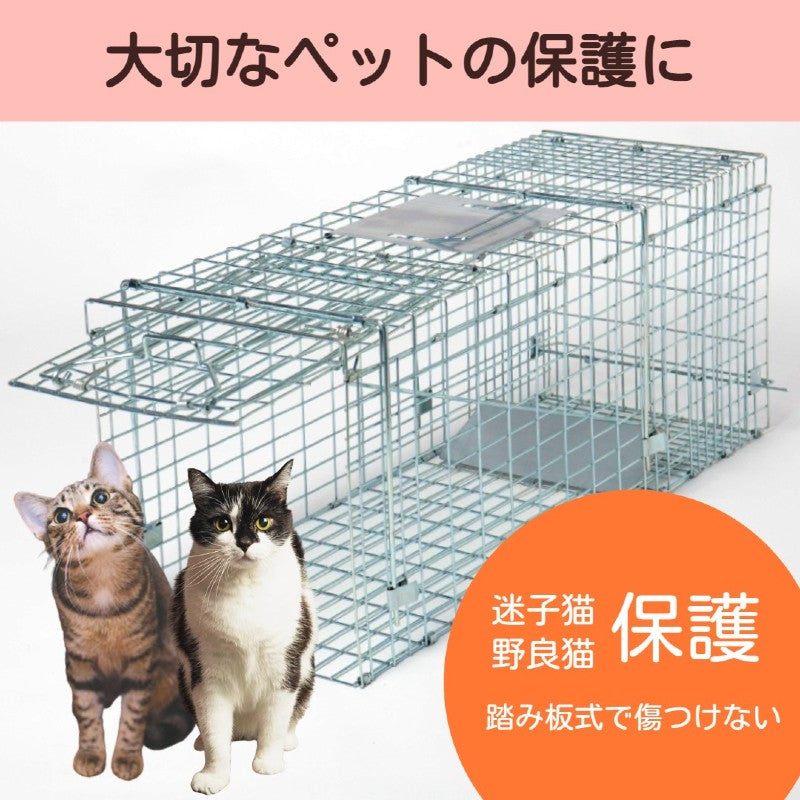 商品説明
The tread plate type does not damage
It is a "footboard type" trap that closes the door when the cat gets on the footboard, so you can safely capture the protected cat without hurting it. A guard is attached under the handle to protect the handle when carrying captured animals.
Foldable design for easy installation
Since it is foldable, it is easy to carry and can be installed even by beginners. It can be installed in a variety of locations, including outdoors, indoors, and attics.
Capture record
We have many achievements in capturing small animals and are also using it for TNR activities. It is a trap that can be safely used by both humans and cats.
3 sizes to choose from!
small size
Depth: 66 cm x Width: 23 cm x Height: 26 cm
Square grid size: 4.5cm x 2.5cm
Target examples: wild cats, nutria, badgers, hares, minks, weasels (males), etc.
medium size
Depth: 79 cm x Width: 28 cm x Height: 33 cm
Square grid size: 4.5cm x 2.5cm
Target examples: Raccoon, civet, nutria, badger, hare, wild cat, mink, weasel (male), etc.
big size
Depth: 94cm x Width: 34cm x Height: 37cm
Square grid size: 4.5cm x 2.5cm
Examples: Foxes, wild dogs, raccoon dogs, raccoons, palm civets, nutria, badgers, hares, feral cats, minks, weasels (males), etc.
Footboard type box trap
◯ It is a [single door] type with a door on only one side.
◯ 3 sizes are available. Please choose according to the size of the target to be captured.
◯ The trigger is a footboard type, attracting the target animal with food and stepping on the plate inside to complete the capture.
◯ Because the iron plate is attached to the lower part of the handle, it is designed to prevent injury even if it is harmed from inside the net. You can work even more safely with protective gloves for trapping operations .
One point advice for capture
◯ It is most effective to set traps on the entry route. When installing, it is recommended to fix with stakes, etc. so that it does not fall over easily. If the route of entry cannot be identified, search for footprints, droppings, food marks, etc. around the area where the damage occurred, and place them.
◯ Instant noodles, bread, and sweets such as caramel corn are often used to catch raccoons. Fruits (bananas, grapes, melons, melons, apples, etc.) are used as baits to attract palm civets. Sweets such as instant noodles and caramel corn are used for badgers. Rice bran and fruit are also effective. Meat and fish are perishable, increasing the bycatch of carnivores such as weasels.
Tips for catching
Wild birds and animals are protected by the "Wildlife Protection and Hunting Appropriate Law" (Wildlife Protection Law), and it is not possible to capture them without deviating from laws and regulations. For details, please contact the local government in the area where you will be capturing.
Non-wild animals (livestock, poultry, pets (dogs, cats, etc.), stray cats, stray dogs) are not subject to the Wildlife Protection Law. * Stray cats and wild dogs that roam the city are also included in non-wild animals.
Product specifications
大きさ
ビッグサイズ:奥行:94cm×幅:34cm×高さ:37cm、ミディアムサイズ:奥行:79cm×幅:28cm×高さ:33cm、スモールサイズ:奥行:66cm×幅:23cm×高さ:26cm
マス目の大きさ:4.5cm×2.5cm(全サイズ)
重さ
ビッグサイズ:約5.5kg、ミディアムサイズ:約4kg、スモールサイズ:約3kg