出荷日目安:

Ships within 5 business days
Regular price
Sale price
¥29,818
Unit price
per
Sale
Sold out
View full details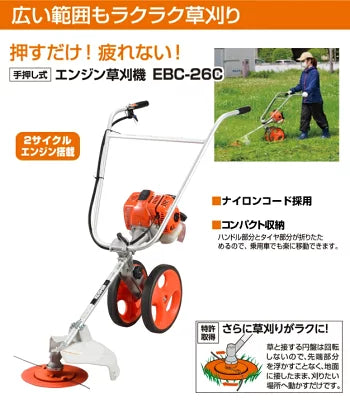 商品説明
●Because it is a hand-push type engine mower, it is ideal for flat ground work. Since it is a hand-push type, there is no need to hang it from the shoulder, making it ideal for long-time work on flat ground!
Of course, it is sure to be useful on footpaths and roadsides.

●Large tires make it easy to handle unevenness The large tires that are essential for hand-push type make it possible to push smoothly.
You can work stably even on uneven surfaces.

●Nylon cord specifications prevent damage to garden trees and walls Since nylon cords are used, it is difficult to damage garden trees and walls.
Suitable for use in areas with many obstacles.

●Shortened nylon cord can be easily replaced Even if the nylon cord becomes short, it can be replaced simply by removing the cord and inserting it into the economy hole.

●It can be folded compactly, so it is convenient to carry. Just loosen the screws by hand, so it can be folded without tools.
It can be stored compactly when not in use.

●Engine is easy to start After assembly, the recoil lever is about waist high, so it's easier to pull than when you're crouching.
After starting, just hold the handle and push forward!


Product specifications
| | |
| --- | --- |
| メーカー | 工進 |
| 機種 | EBC-26C-AAA-3 |
| エンジン名称 | 工進 KC-26C |
| 総排気量 | 26cc |
| エンジン形式 | 空冷2サイクルガソリンエンジン |
| 使用燃料 | 2サイクルオイル混合ガソリン 50:1(FC級以上) |
| 燃料タンク容量 | 約0.6L |
| 燃料(消費目安) | 約35分(※使用条件によって異なります) |
| 最大出力 | 0.7kW(0.93PS)/7500rpm |
| 使用刃物 | ナイロンカッター(ナイロンカッター本体+ナイロンコード) |
| 刈込幅 | 420mm |
| ナイロンコード | 断面:円形(Φ3.0mm)/長さ:207mm(カシメ含む) |
| 本体重量 | 8.9kg(※ナイロンカッター本体、ナイロンコード、飛散保護カバー含む) |
| JAN | 4971770-760011 |