出荷日目安:

Ships within 5 business days
Regular price
Sale price
¥12,273
Unit price
per
Sale
Sold out
View full details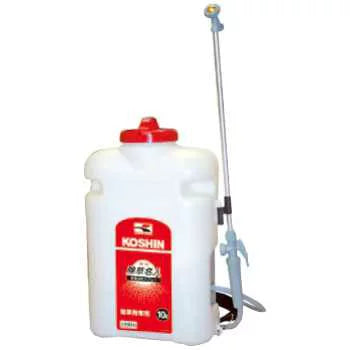 商品説明
・Workable for 54 tanks (540L) with 4 D batteries (during mass spraying) = 6 hours
・Equipped with a spout that changes the spray amount and spray width
・Spraying volume can be adjusted by exchanging the jet plate.
・Spraying is possible by natural fall even if the battery runs out
*Batteries are sold separately.
*Some drugs cannot be used, so please check the "Major Drug Compatibility List".

Product specifications
| | |
| --- | --- |
| タンク容量 | 10リットル |
| モーター | 直流6Vモーター |
| ポンプ | インペラーポンプ |
| ポンプ最高圧力 | 締め切り時:0.015MPa(0.15kgf/cm2) |
| ポンプ散布量(通常散布用) | 2.0L/分※値は当社テスト値であり保証値ではありません。吐出量、作業時間は使用環境によって変化します。 |
| ポンプ散布量(少量散布用) | 0.7L/分※値は当社テスト値であり保証値ではありません。吐出量、作業時間は使用環境によって変化します。 |
| ポンプ散布圧力 | 0.015MPa(0.15kgf/cm2) |
| ポンプ最高圧力 | 締め切り時:0.4MPa(4kgf/cm2) |
| 散布可能量(通常散布用) | 540L(タンク54杯分) |
| 散布可能量(少量散布用) | 190L(タンク19杯分) |
| 乾電池 | 単一形乾電池 4本(別売) |
| 作業時間目安 | 約6時間(アルカリ乾電池使用時)※環境温度や、乾電池の温度が高いときは電池容量が少なくなり、作業時間が短くなります。 |
| 本体重量 | 3kg(電池含む3.6kg) |
| 付属品 | ノズルパイプ(46cm):1ヶ、専用シャワ一頭口:1ヶ、計量カップ:1ヶ、少量散布用噴板:1ヶ |