出荷日目安:

Ships within 3-4 business days
Regular price
Sale price
¥19,800
Unit price
per
Sale
Sold out
View full details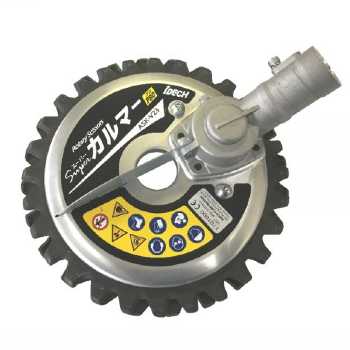 商品説明
Safe with less stone bouncing
The reduction gear box inside the attachment reduces the engine speed to about 1/20.
This speed reduction mechanism and the rotating scissors drive of the upper and lower blades enable efficient mowing of grass even at low speed rotation and control of scattering of stones and the like.
●Kiwa cutting is possible
Even if the cutting blade touches an obstacle, there is little rebounding, making edge cutting smooth and safe.
Increase work efficiency in dangerous places
You can work safely and efficiently in places where conventional high-speed blades would be dangerous, such as parks with people, roads with many vehicles, and around buildings.
- Resistant to water
With a scissors cutting method that rotates up and down at low speed and a simple waterproof structure, there is no suction or rebound on the water surface compared to a single blade, and you can safely cut grass even at the water's edge such as between rice paddies.
● Grass does not wrap around
The integrated structure of the gear case and the output shaft realizes a donut-shaped blade with no core, eliminating the entanglement of grass around the shaft.
●Secret of safety "Rotating scissors & deceleration drive gear system"
A speed reduction mechanism based on our unique technology solves the danger of mowing.


Product specifications
| | |
| --- | --- |
| サイズ | 全長253×全幅220×全高101mm |
| 重量 | 1.7kg(ギアケース含む) |
| 減速方式(減速比) | 逆回転ギヤ減速(上刃1:18.8/下刃1:13.5) |
| 推奨刈払機エンジン | 排気量23cc以上 |
| 外観 | アルミ(A5052) |
| カッター部 | SKS5他 |
| 付属品 | 取付けキット・刃保護カバー |