出荷日目安:

Ships within 3-4 business days
Regular price
Sale price
¥26,800
Unit price
per
Sale
Sold out
View full details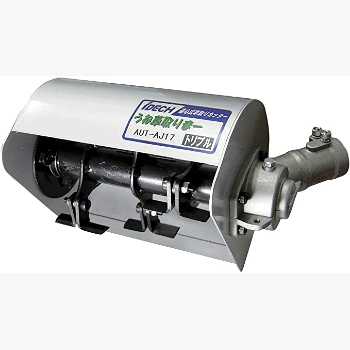 商品説明
Labor saving for weeding work
Attached to your brush cutter, you can work in a standing position for efficient weeding.
Grinding short weeds
Weeds on the topsoil are crushed and treated, which is difficult with conventional mechanical weeding.
Grinding from the root
Since weeds are pulverized from the root, there is also a volume reduction effect and the trouble of collecting weeds can be saved.
Safe with less stone bouncing
The work can be done by sliding it parallel to the ground, and the cover prevents stones and soil from scattering. In addition, it is safe because it scatters in one direction.
●Free hammer method
Due to the free hammer method, the crushing ability is high, there is little rebound, and the blade lasts a long time.
●High torque
By using a reduction gear head (reduction ratio 1:2.7) based on our own technology, weeds are scraped and pulled out with high torque.
Safe for weeding between plants
Since the cutter is not exposed, it can be safely used between bushes, around trees, flower beds, and between ridges of multi-sheets.
Easy to put on the ground
You can work by placing it on the ground and sliding it, so it is light and does not require extra force.
Easy to replace blade
The blade is a double-sided blade, and if you replace the front and back, the sharpness will be restored. Easy to replace.
Can be attached to your brush cutter
It can be attached to most brush cutters with the included adapter.
*It cannot be installed on some special brush cutters.


Product specifications
| | |
| --- | --- |
| サイズ | 全長140×全幅261×全高130mm |
| 重量 | 2.1kg(ギヤヘッド含む) |
| 刈幅 | 170mm |
| カッター厚み | 3mm |
| 減速比 | 1:2.7 |
| カッター部 | SKS5他 |
| 回転シャフト | 径32mm・両端巻きつき防止カバー付 |
| 刈込方式 | 単軸フリーハンマー方式 |
| 推奨刈払機エンジン | 25cc以上 |
| 取付可能刈払機サイズ | (パイプ直径)24・25・26mm・(ドライブシャフト直径)6・7mm・(形状)スプライン・セレーション・スクエアなど |