出荷日目安:

Ships within 5 business days
Regular price
Sale price
¥60,000
Unit price
per
Sale
Sold out
View full details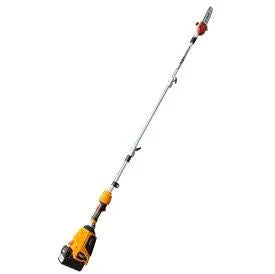 商品説明
1. high power
A large capacity 58V battery realizes high power workability.
2. Zero engine noise and exhaust emissions
Stress-free because there is no engine noise and no exhaust gas. You can work without hesitation in early morning work near private houses or in places where noise and exhaust gas are a concern, such as schools, hospitals, government offices, parks, and residential areas.
3. Quick start with easy operation
It can be started and stopped without extra effort and is easy to use. Don't worry if you are not good at operating machines.
Four. Economic
It's battery operated so no fuel is required. No troublesome maintenance is required even for long-term storage.
Five. Product specs that satisfy professional users
・High cutting performance
Equipped with a large-capacity 58V battery and a high-output motor, it achieves workability that even professional users will be satisfied with. If it is a branch with a diameter of about 50 mm, it can cut more than 500 branches in a fully charged state. The battery has a lineup of two specifications, a lightweight type and a high-capacity type.
・The tip part is a 7-step angle variable type.
It is easy to use even in places where it is difficult to insert a blade, and can be used in a variety of work situations. Since the angle can be changed finely, work efficiency is outstanding!
・Maximum total length 2700mm with attached extension pipe
Easy to put on and take off with one touch. Separate type for convenient storage and carrying. Since it can be divided at the center, it is difficult to take up extra space and it is safe for long-term storage.
・The high-performance battery is a cassette type and can be easily replaced.
Maintenance-free brushless motors ensure longer run times and product life. A lightweight 2.0Ah battery is ideal for using the pole chainsaw elex. The cassette type is easy to remove, and there is no hassle in charging after use.
Product specifications
| | |
| --- | --- |
| 全長×全幅×全高(mm) | 2700×330×200(延長パイプ付) |
| 本体質量(kg) | 6.1 |
| 最大切断径(mm) | 200 |
| ガイドバー | 10inch |
| 付属品 | バッテリー・充電器・肩掛けバンド・延長パイプ・工具セット(プラグレンチ.トルクスレンチ)・チェンソー用工具セット(トルクスレンチ.マイナスドライバー.スパナ8-10.チェンソーオイル) |