出荷日目安:

Ships within 5 business days
Regular price
Sale price
¥65,273
Unit price
per
Sale
Sold out
View full details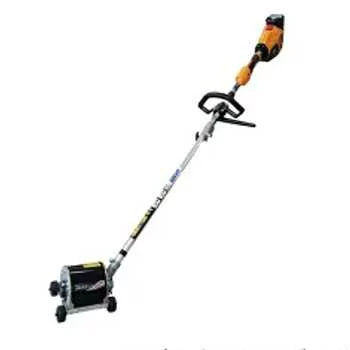 商品説明
1. Crush weeds with a free hammer
The high-speed rotating free hammer blade crushes weeds, so there is no need to collect weeds.
2. Ideal for between rows of crops, between plants, flower beds and planting
Efficient weeding in places where conventional machines and tools are difficult to use. Since the blade is not exposed, it can be safely used between bushes, around trees, flower beds, and between ridges of multi-sheets.
3. Shaving the growing point and exhibiting a high volume reduction effect
Since the weeds are pulverized and scraped from the growing point, the weed control effect is high, and the number of weeding operations per year can be greatly reduced.
Four. adjustable-heightwheeled
It has wheels and can be placed on the ground and used as if it were sliding, so it feels light and does not require extra force. The cutting height can be adjusted in 2 stages and can be used properly according to the application. If you remove the wheels, it is also convenient for edge cutting.
Five. Equipped with movable inner rubber
Equipped with a movable rubber mechanism inside, the soil and pebbles that got inside are discharged smoothly. This greatly reduces soil adhesion and stone clogging during weeding.
6. Easy blade replacement
The blade is a double-sided blade, and if you replace the front and back, the sharpness will be restored. Easy to replace.
Where is the ridge weeder PRO best suited?
Because the ridge weeder PRO is a small hammer knife, it cannot crush dense or tall weeds. In addition, since weeds are crushed by the free hammer method, weeds cannot be crushed if the rotation speed is too low.
Can be attached to your lawn mower
It can be installed on most mowers with the included mounting kit. *It cannot be installed on some special brush cutters.
Product specifications
| | |
| --- | --- |
| 全長×全幅×全高(mm) | 1840×350×200 |
| 本体質量(kg) | 6.3 |
| 削り幅(mm) | 120 |
| 付属品 | バッテリー・充電器・肩掛けバンド・飛散保護カバー・工具セット(トルクスレンチ.その他) |