出荷日目安:

Ships within 5 business days
Regular price
Sale price
¥19,818
Unit price
per
Sale
Sold out
View full details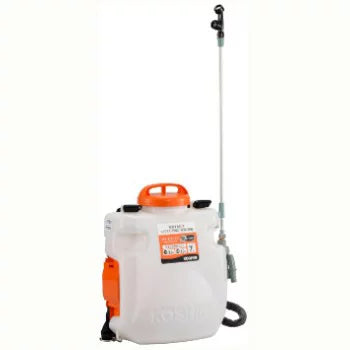 商品説明
Product information
●Simple, with one switch
It can be switched on/off while carrying it.
The pump automatically stops when the switch is not pressed.
●Lightweight and compact
Very light and easy for women and seniors!
●Can be used for a long time
Approximately 70 minutes of charging allows 3.5 hours of continuous use
Use time for about 20 cups of tank!
Quiet, no exhaust gas
Because it is rechargeable, it is perfect for work in the house!
No exhaust gas, very quiet
●Diaphragm pump to prevent chemicals from sticking
●Vertical double-head nozzle
With two nozzles, it can spray a wide area.
● Foam weeding nozzle
The herbicide comes out in the form of a foam, so it is very well adsorbed to the leaves.
Product specifications
| | |
| --- | --- |
| タンク容量 | 7L |
| ポンプ | ダイヤフラムポンプ |
| 最高圧力 | 締め切り時:0.3MPa(3kgf/cm2) |
| 噴口 | 縦型二頭口噴口/泡状除草噴口 |
| 作業時間目安 | 約3.5時間 |
| 噴霧量 | [縦型二頭口噴口時] 0.67L/分/[泡状除草噴口時] 0.5L/分 |
| 噴霧圧力 | [縦型二頭口噴口時] 0.26MPa/[泡状除草噴口時] 0.28MPa |
| 噴霧可能目安 | [縦型二頭口噴口時] 140L(タンク約20杯分)/[泡状除草噴口時] 105L(タンク約15杯分) |
| バッテリー | リチウムイオンバッテリー 18V 2.0Ah |
| 充電器 | 急速充電AC-100V(50Hz・60Hz) |
| 標準充電時間 | 約60分(※バッテリー1コにつき ※バッテリー2コ使用時) |
| 本体重量 | 3.3kg |
| 主な付属品 | 急速充電器:1ヶ、バッテリーパック:1ヶ |
| 付属噴口 | 噴口接続部 G1/4、ノズルパイプ接続部 G1/4、ノズル長さ50cm |