出荷日目安:

Ships within 5 business days
Regular price
Sale price
¥19,818
Unit price
per
Sale
Sold out
View full details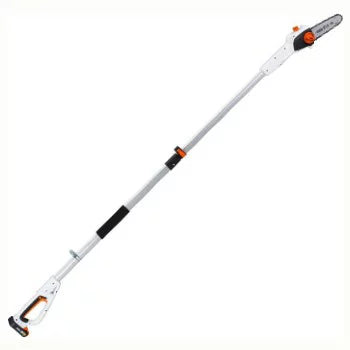 商品説明
Product information
Easy cutting of tall trees
Extends up to 2.3m, so you can safely cut branches of tall trees without a stepladder.
●Aluminum pipe for stable cutting and anti-slip
Uses square aluminum pipe with less bending. Anti-slip is used for easy fixation when cutting.
Powerful cutting
Approximately 160 trees with a diameter of 38 mm can be cut when fully charged.
Easy maintenance
Chains can be adjusted and replaced without tools.
Product specifications
| | |
| --- | --- |
| モーター | ブラシモーター |
| バッテリー種類 | リチウムイオン |
| 電圧 | DC18V |
| バッテリー容量 | 2.0Ah |
| 充電時間 | 約60分(※気温やバッテリーの充電残量などにより異なります。) |
| 運転時間(満充電・無負荷) | 約30分 |
| ガイドバー長さ | 200mm |
| チェーンスピード | 2.5m/s |
| チェーン形式 | 91PX-33E |
| ガイドバー形式 | 080SDEA041 |
| ヘッド角度 | 固定15度 |
| 長さ調節 | 1720~2300mm(無段階調節) |
| 本体サイズ | 1720×100×150mm |
| 本体重量 | 3.3kg(※バッテリーなど付属品含む。) |
| 付属品 | ソーチェーン・ガイドバー・チェーンケース・チェーンオイル(80ml)・肩掛けバンド |
| バッテリー・充電器 | 18Vバッテリー・急速充電器 |