出荷日目安:

Ships within 5 business days
Regular price
Sale price
¥40,727
Unit price
per
Sale
Sold out
View full details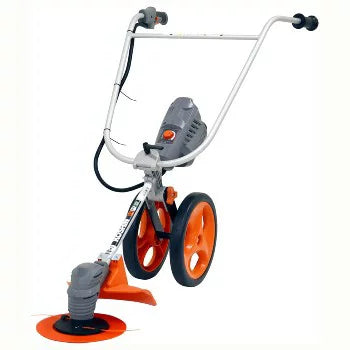 商品説明
Product information
Uses a nylon cord for edge cutting.
Since it is a nylon cord type, there is little risk of damage due to contact with garden trees or curbs, so you can rest assured.
●Stability is perfect with a large tire!
It has two large tires, so you can move stably even on uneven ground. Easy operation with one switch because it is electric
No troublesome operation or refueling is required.
Even if you are not mechanically strong, you can use it easily.
Exhaust-less that does not pollute the fresh morning air. It is very easy to clean. ●Compact storage!
The handle part and tire part can be folded, so you can easily move it even in a passenger car.
Product specifications
| | |
| --- | --- |
| 商品名 | 手押し式充電草刈機 |
| モーター | ブラシレスモーター |
| バッテリー | リチウムイオンバッテリー |
| 電圧 | 36V |
| 容量 | 2.5Ah |
| 充電時間 | 約90分 |
| 回転数 | 3,000〜5,300rpm |
| 運転時間 | 高速/約30分 低速/約140分(※交換の際は必ず指定のものをご使用ください。) |
| 使用刃物 | ナイロンカッター(※1充電あたり。また、気温や切断対象などの状態により異なります。) |
| 刈込幅 | 360mm |
| ナイロンコード | 断面/四角ツイスト(対角2.4mm) 長さ/170mm(カシメ含む) |
| 本体重量 | 7.9kg(バッテリーなど付属品を含む) |