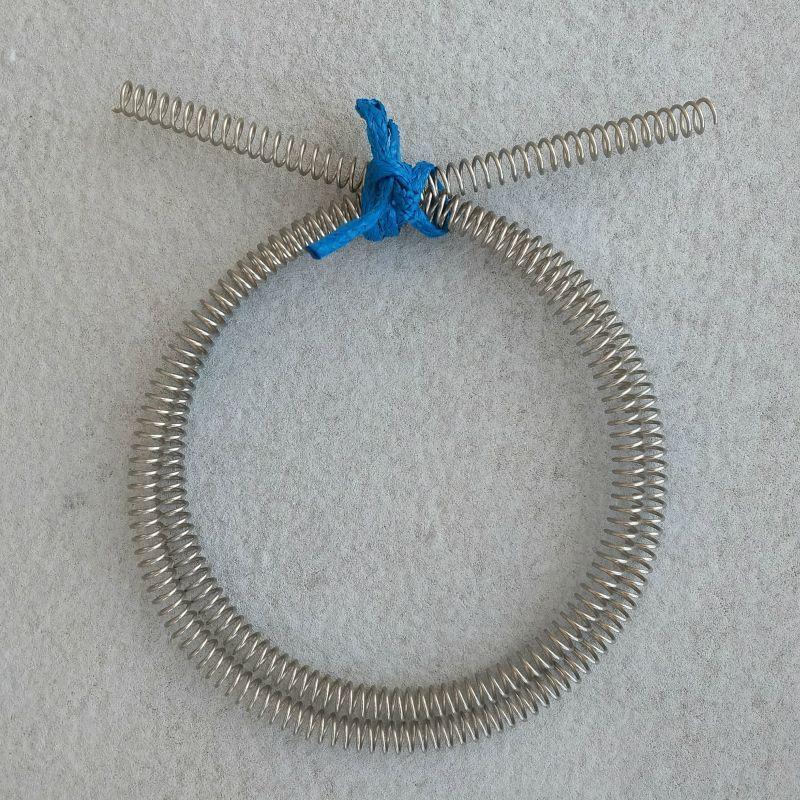 商品説明
It is the spring (push spring) that is the heart of the tying trap. After repeated trial and error with the spring manufacturer, we have prepared two types of load that are compatible with our treads.
Springs suitable for our treads
◯ It is a stainless steel spring with little settling, which is considered to be the best for tying traps.
◯ It is basic to choose a spring that is easy to use based on its strength, but this product is not too hard to be compressed and not too soft to be repelled in the air, giving it a perfect balance.
◯ Considering the catch rate, it is recommended that the spring be considered a consumable item and replaced each time.
◯ Suitable for PVC pipes with a diameter of Φ13 mm.
2 types of strength to choose from
| | |
| --- | --- |
| 1: Compressed load 9.8kg | Our standard strength stainless steel spring with stable operation and adjustable load so that it can be compressed even by women and the elderly. It goes well with the Strong tread . |
| 2: Compressed load 15.4kg | This stainless steel spring is recommended for customers who are looking for a strong load in order to increase the instantaneous power as a countermeasure against air repelling. It goes well with the wild boar hoihoi tread . |
We also sell replacement trap parts.
The treads can be used many times as long as they do not break, but the parts used for the springs are consumables. We also sell replacement parts starting from 1 piece.
Components of a tying trap
We also recommend a self-
made kit
that is a bargain with each component set.
Product specifications
| | |
| --- | --- |
| 素材 | ステンレス製 |
| 長さ | 1400mm |
| 圧縮長 | 440mm |
| 巻バネのピッチ | 9.8kg版=4.6mm、15.4kg版=4.8mm |
| バネの太さ | 9.8kg版=1.5mm、15.4kg版=1.6mm |
| 径 | 12.4mm |