出荷日目安:

Ships within 3-4 business days
Regular price
¥1,510
Sale price
¥1,510
Unit price
per
Sale
Sold out
View full details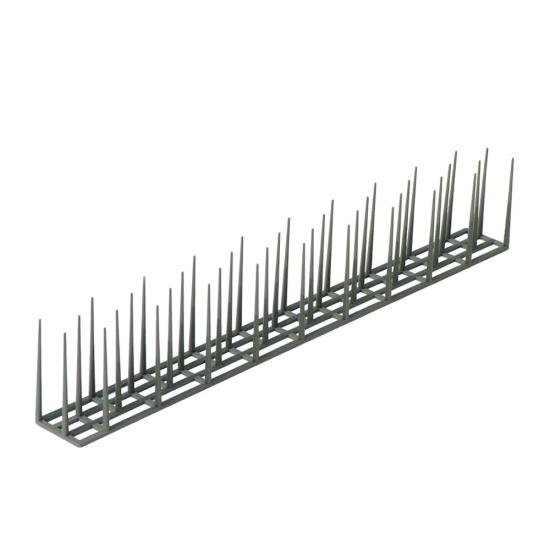 商品説明
The needle length is 10 cm so that it can be used as a preventive measure when pigeons start to come or before damage occurs. Standard type with excellent cost performance. Great for preventative installation in areas where birds have not yet come. *If damage has already occurred, pigeons will try to stay persistent due to their homing instinct, so type 2 with long needles is recommended.
Installation method
Clean the installation surface thoroughly in advance and work in a completely dry state. If there is dirt or moisture, the adhesive cannot be firmly adhered. If there is already damage or if the damage is severe, be sure to cover it. For the installation method, select either A or B below according to the location to be installed.
A: Mounting method using fastener C-1
■ Places to be installed: Concrete, metal, various boards, etc.
1: Fit the fasteners C-1 in two places on the left and right (fit the long claw first, then fit the short one).
2: Apply adhesive to the back of C-1 and adhere it to the adhesive surface. In the case of the type with double-sided tape, peel off the release paper and press firmly to attach. *When nailing, drive the nail into the screw hole.
-Click here for the product page of the fastener C-1>>
B: Installation using clamps
■ Mounting locations: H-shaped steel, L-shaped steel, etc.
1: Fit the fasteners on the left and right sides of the body. *It can be firmly installed by inserting the kenzan into the hole at the top of the clamp.
2: Use a tool to tighten and fix the nut.
-Clamp DX product page is here>>
3 types of kenzan that can be selected according to each situation
We have 3 types of kenzan depending on the type of bird and the situation. As a countermeasure against pigeons, starlings, crows, bulbuls, egrets, black-tailed gulls, and seagulls, you can choose the type that suits you best. Both are made of weather-resistant plastic that has cleared outdoor weather resistance tests for 10 years. In addition, a cover type with a special structure is convenient for a pipe-shaped place.
Product specifications
| | |
| --- | --- |
| サイズ | 高さ103mm×横幅603mm×奥行き60mm |
| 素材 | ポリプロピレン製(耐候性)/グレー色 |