出荷日目安:

Ships within 7 business days
Regular price
Sale price
¥61,109
Unit price
per
Sale
Sold out
View full details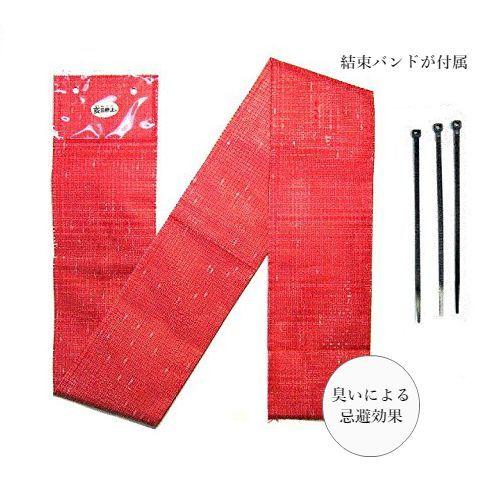 商品説明
It is a hanging type repellent sheet that keeps deer away with its disliked smell and color. It has a strong repellent effect against deer due to the smell that animals are not good at, such as red pepper ingredients (patented*). In addition, the red color that beasts are wary of swings to arouse their vigilance. No hunting license required. It is very easy to install because you only need to install it for a certain period of time. It is a product that is friendly to people and the environment, so you can use it with confidence.
*No. 4994408: Sheet for preventing intrusion of boars and deer
Easy installation
No foundation work required, simply attach to strings or existing fences at regular intervals. Anyone can install it easily. No need for large-scale foundation work. Please install this deer repellent sheet by hanging it on a fence or a path at intervals of 1.5 meters or less. For best results, we recommend installing the product at a height of 110-120 cm and 10-20 cm away from the ground.
maintenance-free
Even if you don't have a prop, you can just install it directly on the tree. Contact with grass does not affect the effect. Expiration date (about 1 year) Effective without maintenance.
*The repellent effect has been confirmed under multiple environments, but compensation cannot be made. please note that.
Eligible for subsidy
This product is eligible for the Bird and Beast Damage Prevention Comprehensive Measures Grant. You can receive it by applying to the Wildlife Damage Council of your city hall.

*The application method differs depending on the area in which you live. Please inquire at the window of the Wildlife Damage Council at your city hall.
*We do not sell ropes or supports for installation. We recommend props (such as privet mushrooms) and tiger-rolled ropes sold at home centers.
Click here for other evasion countermeasure product corners>>
Product specifications
| | |
| --- | --- |
| 大きさ | 100 x 9.5cm |
| 素材 | 忌避剤:天然植物(食品添加物) カプサイシン他 |
| 色 | 赤(レッド) |