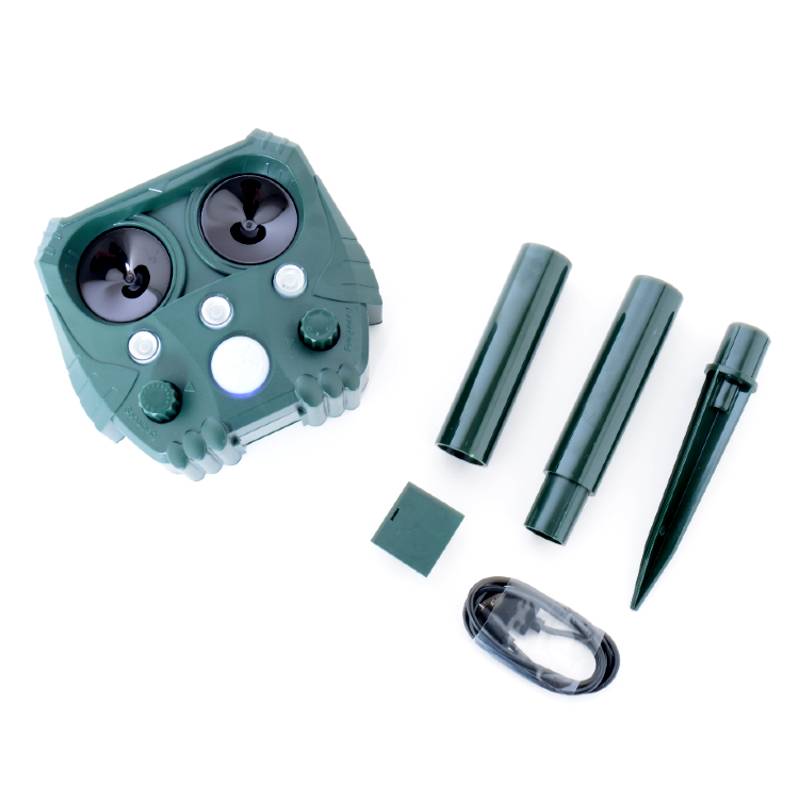 商品説明
Detect animals with an infrared sensor and drive them away with ultrasonic waves and flash lamps! It is harmless to humans, the environment and animals and can be used in a wide range of situations.
・Frequency can be adjusted in 5 steps. The detection range can be adjusted with the sensitivity adjustment button.
・Material: UV protection ABS
・Equipped with the latest PIR sensor, 3 flashes, 2 ultrasonic speakers, and an infrared sensor ・Waterproof performance is IPX4, so you can use it in gardens, fields, parking lots, etc.
・Solar and USB charging is possible, so you can use it without worrying about running out of battery!
Various animals can be repelled depending on the frequency
○ Mode A 13.5kHz ~ 19.5kHz Mouse, dog, fox, cat, etc.
○Mode B 19.5kHz-24.5kHz Cats, raccoons, badgers, skunks, etc.
○Mode C 24.5kHz - 45.5kHz Birds such as bats, pigeons, and crows
○ Mode D 13.5kHz ~ 40.0kHz LED flashlight also flashes to repel all animals
○Mode E No ultrasonic wave, only LED flashlight Raccoon, wild boar, cat
Installation method & precautions
○ Infrared sensor range Horizontal 110 degrees, within the range of 8m
○ Applicable range of ultrasonic waves Horizontal 170 degrees, within a range of 15 m
○The waterproof grade is IPX4. Please note that there is a risk of failure due to complete submersion or strong rain and wind such as a typhoon.
Product specifications
| | |
| --- | --- |
| 素材 | ABS樹脂 |
| 本体重量 | 約700g |
| 電池 | ソーラー(USB充電機能あり) |
| 赤外線感知距離 | 水平110度、8m(天候と環境により前後します) |
| 超音波適用範囲 | 水平170度、15m(天候と環境により前後します) |
| 防水等級 | IPX4 |
| 周波数 | 13.5〜40kHz(対象動物に合わせて5つパターン切替可能) |