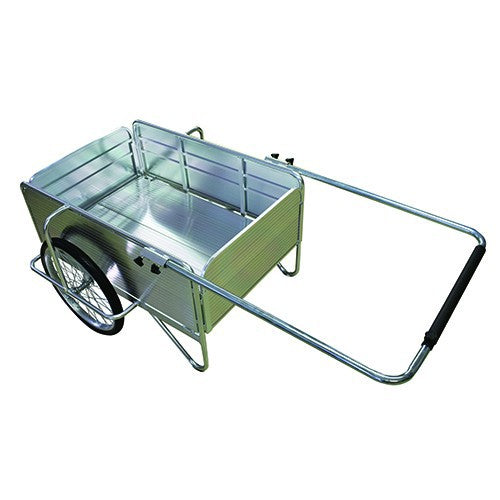 商品説明
Lightweight aluminum folding cart that does not require tools. No puncture tires, so you don't have to worry about punctures. Since it is foldable, it can be stored compactly, and if folded, it can be transported by car.
Click here for a list of useful items for hunting>>
For transporting stabbed prey and bait
〇 Load capacity: 120kg, capacity: 160L design. Also for transport work, emergency evacuation, and for disasters.
〇 No puncture tire specification (20 inches)
〇 Cargo size: length 920 x width 620 x height 320
〇 Total length: length 1630 x width 920 x height 620 Product shipping size (box): length 410 x width 980 x height 660
*Specifications are subject to change without notice.
parts list
1. Body: 1 each for left and right ・Stop bolts: 2
2. Bottom plate for loading platform: 1 piece each for left and right ・Bottom plate stopper: 1 piece
3, Reinforcement bar: 1 ・Mounting bolt: 1 4, Plate for loading platform: 1 each for front and back
5, Handle: 1 ・Stop bolt: 2
6, Handles: 2 (with fasteners)
*For details on the components and how to assemble, please refer to the manual included with the product.
We also recommend a lightweight, foldable plastic box cart .
Product specifications
| | |
| --- | --- |
| 重さ | 総重量:約17kg  耐荷重:120kg |
| 備考 | 20インチノーパンクタイヤ |
| サイズ | 荷台サイズ:長さ920×幅620×高さ320  全長:長さ1630×幅920×高さ620  製品出荷サイズ(箱):長410×幅980×高さ660 |
| 素材 | フレーム:アルミ合金 タイヤ:発泡ウレタン スポーク:スチール |