出荷日目安:

Ships within 7 business days
Regular price
Sale price
¥36,800
Unit price
per
Sale
Sold out
View full details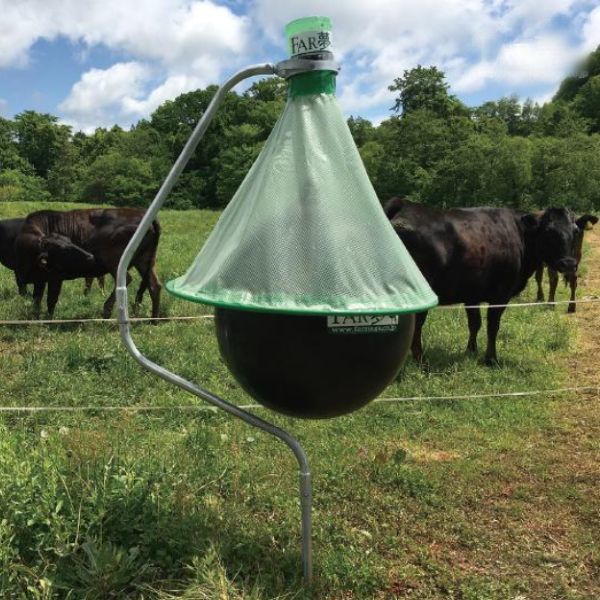 商品説明
It is a gad countermeasure device with a reputation that "I can get a gad as badly as I can!" We don't use electricity or medicine to collect using the habits of horseflies. This product is recommended for those who run dairy farms and livestock industries, and those who are worried about outdoor horseflies.
Click here for other evasion countermeasure product corners>>
Mechanism and effect of removing gadfly
〇It uses the habit of horseflies to approach objects with high temperatures. A horsefly rides on the ball, which is heated by the sunlight, and walks around the ball to suck its blood, gradually rising up.
〇 The cylinder at the top is designed so that once the horsefly enters, it cannot be removed, so you can get rid of the horsefly without using chemicals or electricity. The lid on the top of the cylinder can be opened, so you can throw it away without touching it directly.
▼ Some of the impressions received from everyone who runs the dairy and livestock industry There are various benefits by reducing the behavior (head swing, tail swing, leg raise) of cows to drive away horseflies.

- "The dry cows in the paddock were worried about horse flies, so they didn't eat well, but after installing the abu cap, they started eating better."

- "The number of accidents has decreased during seeding work."

- "Veterinary practice has become easier!"

- "I feel that the number of horse flies that came into the cowshed with the cows has decreased, and the number of times the cows have gone wild and removed the milking machine has really decreased."
▼ There are installation examples other than farms
- "Before the installation, I was afraid to go to outdoor facilities such as open-air baths and garden spas when it happened, but after installation, it's not that there aren't any, but it's much less frequent, so I can go outside with peace of mind. (Kogen Resort Management Company)."
★Installation
〇 About 20 minutes to assemble. Anyone can install it easily. It is easy to move after installation because it is simply installed by burying the support in the ground.
〇Do not install in a place that is not exposed to sunlight. (under a tree, inside a building, etc.)
〇There is a risk of damage, so it is recommended to keep at least 1m away from obstacles.
〇As there is a risk of damage, please do not install when it is snowing.
Product specifications
| | |
| --- | --- |
| 重さ | 13.4kg |
| サイズ | 高さ2470mm 横1120mm |
| 素材 | ボール部/ゴム 支柱/鉄(亜鉛メッキ) |